Congratulations to everyone who participated in the 2019 Crypto Cup - especially the winning team! The tournament was a big success & a great time was had by all. Please enjoy the recap and photos. A link to a full photo gallery is at the end of the page.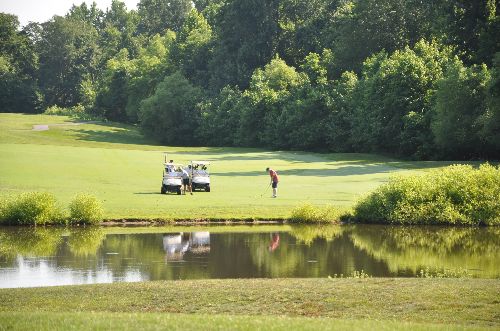 ---
The 18th Annual Crypto Cup Golf Tournament was held on Friday, June 28, 2019.
A total of 113 players gathered at the Compass Pointe Golf Courses, in Pasadena, to enjoy a day of fun and competition.
Registration/breakfast began at 7:30 a.m. with a Captain's Choice format. Volunteers ensured that everyone checked in and received goody bags, manned two snack stations, and photographed the event.
The day was a scorching 92 degrees and the golf was hot too! The winning team came in at 60 and the 2nd and 3rd place teams tied with a 61. The NCMF team played a respectable 68! Well done everyone!
The SPY HOLE!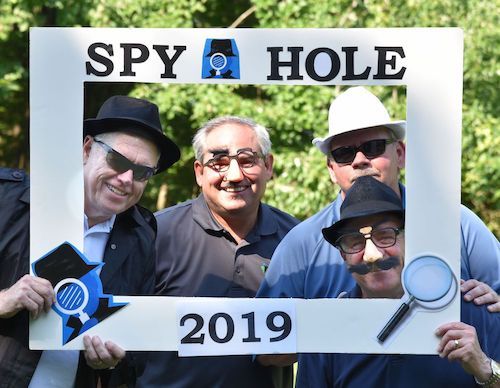 A mega-putt contest (new sponsorship by Flash Technology Group) was held before the tee-off with a $100 gift certificate won by Ronnie Gray, retired Eagle Alliance employee. Nearly $600 was raised at the always popular Spy Hole where players posed for photos in various stages of disguise. Players also enjoyed a Hot Dog at the Turn (new sponsorship by Seagate Government Solutions).
A Fantastic Check Presentation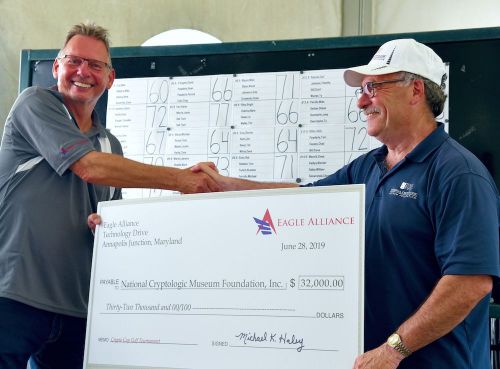 After 18 holes of play, everyone gathered together for a BBQ Buffet lunch and awards. Eagle Alliance presented a check to the National Cryptologic Museum Foundation for $32,000 and has now raised over $700,000 with this event in 18 years. SINCEREST OF THANKS TO EAGLE ALLIANCE!
The WINNERS!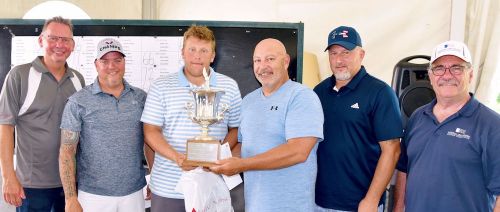 The Top Three Teams:
· First place: Mike Roberts, Dan Casalino, Carl Casalino, Mike Cox (representing Chesapeake Network Installations)
The winning team takes home a "replica" of the original golf trophy which is kept at the National Cryptologic Museum in addition to a framed picture of their team receiving the award. They are also recognized later at a special ceremony and lunch.
· Second place: Phil Puccio, Jeff Hertel, Reed Holt, Jake Greene (representing Elevi)
· Third place: Bryce Hathaway, Kevin Murphy, Mark Whitley, Rick Waldt (Team Hathaway)
Other contests were held during play and the winners were:
· Longest Drive – Ladies: Danielle Swigert (Flash Technology Group)
· Longest Drive- Men: Mike Moritzkat (Seagate Government Solutions)
· Closest to the Pin: Chip Wildy (Comso)
The raffle was done as a Lucky Draw raffle, where participants placed tickets in the bag for the items they most wanted to win. Items included a wine basket, a cooler backpack with beer, 2 flag baskets, a Fireball party bucket and more (donated by the NCMF), a basket from Mission BBQ, a golf club bag, and a Looney Tunes lithography appraised for over $1200!
See photos and learn more about the special 2019 Awards Luncheon held post-tournament to honor the 2019 Crypto Cup winners!
The 2019 SPONSORS!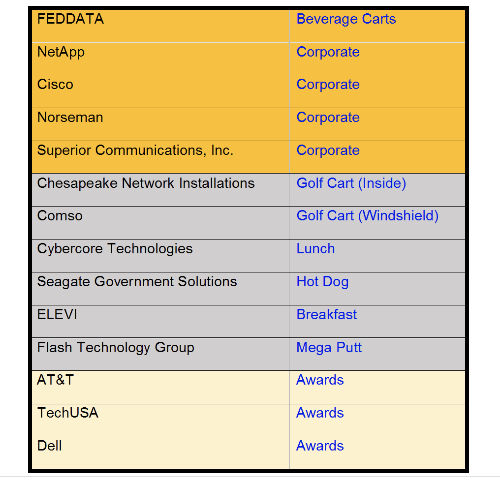 MANY thanks to the amazing 2019 Crypto Cup Sponsors. This year featured some new sponsors, as well as new sponsorship opportunities. Click on the image to visit the 2019 Sponsors page and follow links to each of their websites to learn more about their company or organization. The NCMF sincerely appreciates your support and participation.
The Volunteers Who MAKE IT HAPPEN!
The event was such a success thanks to the all of the sponsors, players and volunteers. The National Cryptologic Museum Foundation is especially thankful to Stephanie Agostinelli, Event Coordinator, for orchestrating such a successful tournament once again.
Many thanks to ALL the volunteers: Jen Berry, Chastity Fox, Lynn Hathaway, Sandi McMillin, Dawn Pruss, JJ Pruss, and Jim Taylor.
See photos and learn about the special Volunteer Appreciation Luncheon to honor Eagle Alliance Crypto Cup volunteers.