Special Thank You Letters from our 2020 NCMF Award Winners
As with many events scheduled for 2020, the 2020 Maryland History Day contest took place virtually due to the Coronavirus pandemic. Students submitted their projects and presentations online. Winners were honored via a virtual ceremony and received their physical plaque by postal mail.
This year the NCMF was honored to sponsor our special awards - Eugene J. Becker Award for Excellence in Cybersecurity & Cryptology and Maj Gen John E. Morrison Award for Excellence in Educaton & Innovation.
Some of the winners of these special awards reached out to the Foundation with a special letter of gratitude. Their letters, along with details about their winning projects are included below. Be sure to visit the Becker Award and Morrison Award pages to learn about all the 2020 winners and their impressive presentations.
The Foundation considers it a GREAT HONOR to continue to sponsor these special awards for the annual Maryland History Day contest. We are always impressed by the students' insightful and impressive projects. CONGRATULATIONS to all of the 2020 winners. Please remember to view the Award pages to see details about all the special award winners. We look forward to what the students will present in 2021!
---
Ms. Carlin Blash, Senior Level Winner, 2020 Morrison Award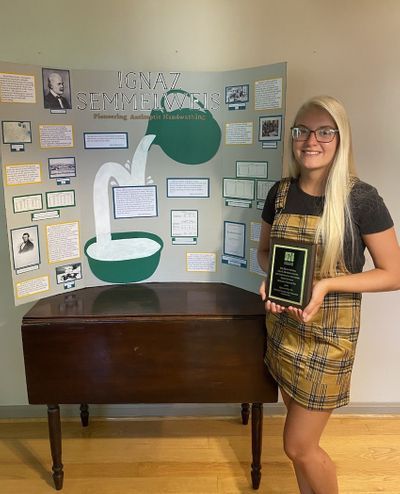 LETTER FROM AWARD WINNER CARLIN BLASH TO THE NCMF
Thank you for sponsoring the special award I won, the Morrison Prize for Education and Innovation, at the Maryland State History Day competition. I always enjoy competing in the Maryland History Day competition as a chance to learn new information and showcase this knowledge. This year I chose to complete my project on Ignaz Semmelweis, a Hungarian physician who worked at the Vienna General Hospital in the mid 1800s to discover the cause of puerperal fever and the importance of handwashing in preventing the transmission of this disease. Semmelweis was intrigued by the fact that the first clinic run by physicians had a higher mortality rate from puerperal fever than the second clinic run by midwives. After investigation, Semmelweis found that puerperal fever was being caused by bacteria from decaying matter that the physicians transmitted to women when they went straight from autopsies to examining women in labor. Semmelweis decided to implement hand washing with chlorinated lime to destroy this bacteria and immediately after the mortality rate of the first clinic drastically decreased. Despite this convincing evidence, Semmelweis' ideas were criticized and he died before seeing them widely accepted. Today we know the importance of handwashing in preventing the transmission of disease which is why it is the first step that all healthcare workers use before caring for a patient. With the current coronavirus pandemic, we know that masks only provide a small level of defense if we are not washing our hands to prevent the contact of pathogens from our environment to ourselves and others. Ignaz Semmelweis needs to be more widely known for his contributions to healthcare and improving the lives of mothers all over the world. We can also learn from him to never give up on what we think is right when we face criticism, but to continue to stand by our ideas and push for improvement. I have really enjoyed learning about this aspect of women's medical history as I have completed this project as I hope you have too. I thank you again for sponsoring the award for my project as I feel Semmelweis' efforts were one of the most valuable innovations in medicine.

Sincerely,
Carlin Blash
Details about Ms. Blash's Presentation
Morrison Award: Senior Level Winner
Title: Ignaz Semmelweis: Pioneering Antiseptic Handwashing Click on the image for a larger view.
Details: Click to see photos of and details about the exhibit presentation.
Category: Senior Individual Exhibit
Student: Carlin Blash
School: South Hagerstown High School
Teacher: Jason Kamler
---
Astri Doub, Jaimie Griffin, Elizabeth O'Brien, Senior Level Winners, 2020 Becker Award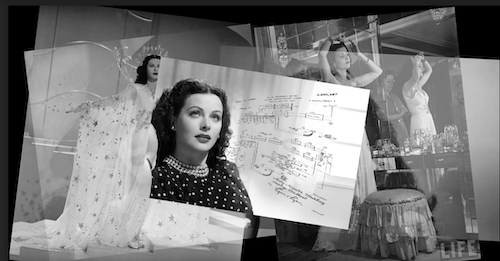 LETTER FROM THE WINNERS TO THE NCMF:
Thank you so much for sponsoring the National History Eugene J. Becker Award for Excellence in Cybersecurity and Cryptology! We were so honored to win the award for our documentary on Hedy Lamarr and her development of spread spectrum technology. We found Lamarr such a fascinating person because while she was developing technologies that are still relied upon today, in her movies, she perpetuated the stereotype that a woman's worth is determined by her beauty. This project has changed the way we examine the technology we use and also the danger with the women we choose to hold up as role models in our society, and we are so grateful to have gotten recognized for it!

Sincerely,
Astri Doub, Jaimie Griffin, Elizabeth O'Brien
Details about the Senior Level Winning Presentation for the 2020 Becker Award
Senior Level Winners
Title: Beyond the Beauty: How Hedy Lamarr Engineered Society
Details: Click to see a video of the presentation online.
Category: Senior Group Documentary
Students: Astri Doub, Jaimie Griffin, Elizabeth O'Brien
School: The Bryn Mawr School
Teacher: Matthew Hetrick