#SHIP4EDUCATORS
Donate to Help Cover Shipping Costs for the New Middle School Cybersecurity Booklet "Outsmart Cyberthreats."
Help Us Get These Booklets to Educators & Students Today!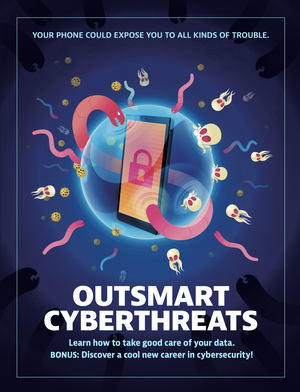 Thanks to a generous gift from an NCF donor, we are able to offer a limited number of the middle school cybersecurity booklet, "Outsmart Cyberthreats" for just the cost of shipping and handling (the regular price is $6.95 plus shipping and handling). However, many educators are having to pay out of pocket to get copies of the booklet for their students. In many cases, even a small shipping fee is too challenging given the other materials and expenses our educators often have to cover at this time of year.
Your donation can help educators to receive these important cybersecurity booklets that are especially essential for students and parents at a time when we are all relying on the Internet more and more each day.
Learn more about the booklets, as well as our generous supporters and partners in creating the booklet, and view the digital version - CLICK HERE.
Thank you for your interest and support!
---