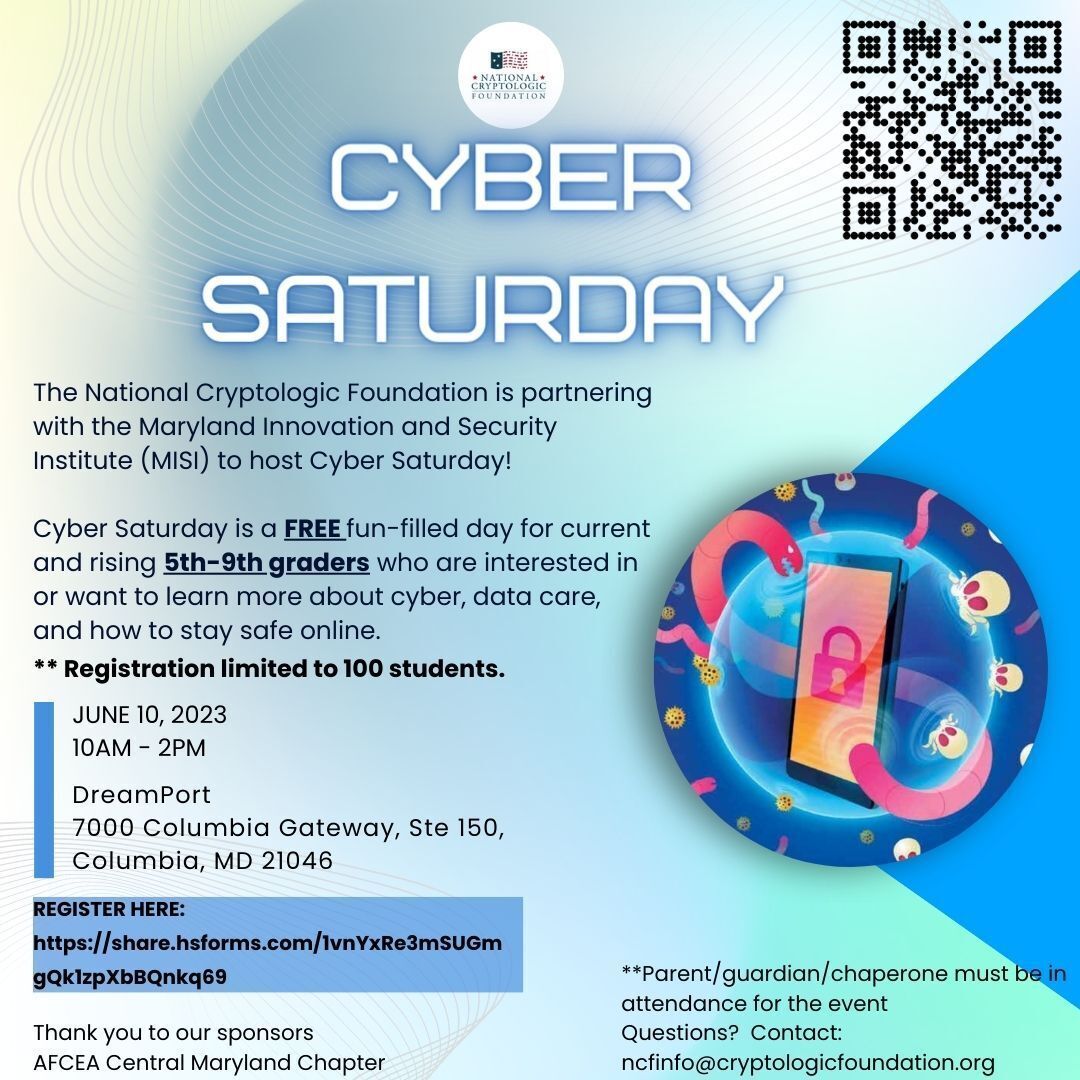 The NCF's Education Program is partnering with the Maryland Innovation and Security Institute (MISI) to host Cyber Saturday at the DreamPort Facility in Columbia, MD on June 10, 2023 from 10a-2pm. Registration is limited to the first 100 students - so save your spot today via the registration link below. * Please note that a parent/guardian/chaperone must remain in attendance with a student for the event.
Cyber Saturday is a fun-filled day for current and rising 5th-9th graders who are interested in or want to learn more about cyber, data care, and how to stay safe online through hands-on exercises. MISI's team of engineers has brought activities from NCF's Outsmart Cyberthreats Collection to life to help youth understand the importance of protecting their data in an engaging, game-like environment. To see the full Outsmart Cybertthreats Collection online - see the link included below.
During this free event, youth will not only have a great time and meet others who share their interest in cyber, but they'll gain cyber knowledge along the way.
Adult chaperones may choose to participate in the Outsmart Cyberthreats activities along with their youth, spend time building their own data care knowledge with the NCF's Adult Data Care booklet, or put their cyber skills to the test in NCF's Escape Room.
*** Thank you to our sponsor - AFCEA Central Maryland Chapter.
Email the Education team at ncfinfo@cryptologicfoundation.org with any questions or inquiries about Cyber Saturday
ABOUT THE PROGRAM VENUE: DreamPort
DreamPort is a combination of state-of-the-art facilities, innovative programs, and imaginative people charged with finding that spark that leads to unparalleled capability for USCYBERCOM and the warfighters at large.
Located in Columbia, Maryland, DreamPort was created under a Partnership Intermediary Agreement between MISI and United States Cyber Command (USCYBERCOM).