Improving Cyber-Oriented Education - A Fireside Chat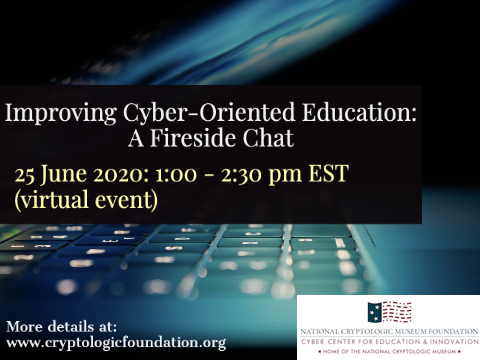 The Cyberspace Solarium Commission (CSC) was established to "develop a consensus on a strategic approach to defending the United States in cyberspace against Cyber attacks of significant consequences." The finished Report was presented to the public on March 11, 2020.
The CSC Report proposes a strategy of layered Cyber deterrence. Their Report consists of over 80 recommendations to implement the strategy.
The Cyber Center for Education and Innovation (CCEI) is partnering with the National Cyber Group, DreamPort, and Whiteford Taylor Preston to host a suite of esteemed panelists to discuss the Report's findings, its educational aspects, and the opportunities for and challenges to making meaningful and sustainable progress toward improving Cyber-oriented education.
This Fireside Chat held virtually on June 25th 2020 is the first of four events to engage public-private partnerships aimed at continuing the Cyber educational dialogue. Register for the event via the link below.
During this event, you'll hear from CSC Commissioners, as well as Diane M. Janosek, Commandant for the National Cryptologic School, NSA, and additional Industry leaders. Click the link below to learn about all of the speakers.
Work groups will form to address key CSC's Cyber-oriented education enabling recommendations including:
*. Develop a secure online clearinghouse for K-12 classroom resources on Cybersecurity. Promote professional development programs for K-12 teachers.
*. Develop work-based learning programs and apprenticeships to supplement classroom learning. Incorporate Cybersecurity into safety curricula for career and technical education programs.
*. Support Cybersecurity clinics at colleges and universities to serve as educational hands-on training opportunities for students while serving as a valuable resource to their community. Expand the existing Centers of Academic Excellence program to encourage cyber coursework in fields such as business, law, and health care.
*. Further explore ways to expand programs such as the FBI Cyber STEM program and CISA's Cybersecurity Education Training Assistance Program on a national scale. CYBER Patriot, GenCyber, National Education Cyber program, etc.
Now is the time to maintain the momentum and accomplish actionable progress toward addressing the CSC's big ideas! Are you ready to join the solution?