35th Annual William Oliver Baker Award Dinner ~ recognizing ~ General Keith B. Alexander (USA, Retired)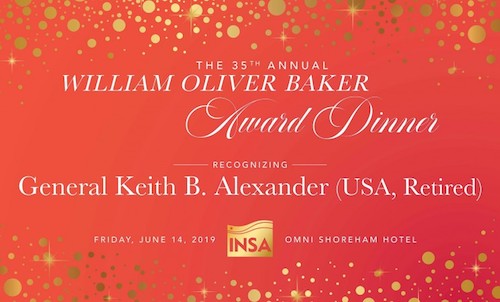 INSA has announced that General Keith B. Alexander (USA, Retired), the longest-serving director in the history of the National Security Agency (NSA) and the first commander of the U.S. Cyber Command (USCYBERCOM), has been selected as the 35th William Oliver Baker Award recipient.
A retired four-star general, Alexander's 40-year military career was capped off by an unprecedented 8-1/2-year stint as Director, NSA. While serving as NSA Director, he was confirmed by the U.S. Senate to be the first commander of USCYBERCOM, holding this role from 2010-2014. GEN Alexander retired from public service in March 2014. INSA proudly recognizeds GEN Alexander for his extraordinary leadership, vision, and years of dedicated service to our country.
One of the Intelligence Community's premier events, the Baker Award dinner routinely draws more than 700 senior leaders from across government, industry, and academia.
Don't miss this memorable evening of dinner and high-caliber networking with IC leaders past and present, as INSA welcomes GEN Alexander to the distinguished list of Baker Award recipients.
Small businesses receive 15% off table purchases. Click the link below for more information and to view table pricing and available sponsorships. For details on available sponsorships, email JLavine@INSAonline.org.
Dress Code: Black tie or mess dress.