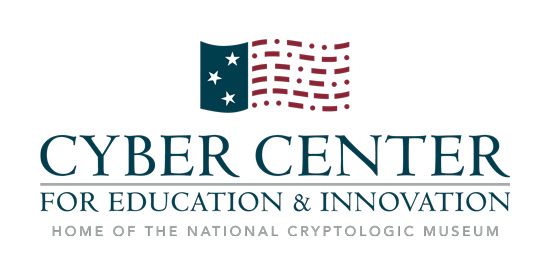 Posted on 11 November 2019
Contact:
Christine Harding
Communications & Marketing Director
301-399-4101
charding@cryptologicfoundation.org
Igniting Interest in Cybersecurity Careers
Cyber Center for Education and Innovation Hosts Online Chats to Highlight Key Cybersecurity Professions during National Cybersecurity Career Awareness Week
MILLERSVILLE, MD (November 11, 2019) During National Cybersecurity Career Awareness Week (NCCAW) (Nov 11-16, 2019), the Cyber Center for Education and Innovation (CCEI) – Home of the National Cryptologic Museum (NCM) will host a variety of online chats featuring experts who will address key topics related to cybersecurity careers. The industry chats will take place live via the CCEI's new Nepris-hosted educational site www.ccei.nepris.com. Nepris is a cloud-based platform connecting educators and industry experts to help bring relevance to the classroom and inspire students toward real-world careers. Learn more about Nepris at www.nepris.com. Learn more about NCCAW at www.NIST.gov.
Mark Loepker, the CCEI's Director of Education, is excited about launching the Cyber Center's new virtual classroom presence on Nepris. "We've talked about removing the physical walls of the National Cryptologic Museum, and this makes it a reality. From our Nepris site, we can connect cybersecurity professionals to every classroom and every type of student. A new way to bring the Museum alive and deliver K-12 cyber content has begun!"
During NCCAW, people of all ages have an opportunity to learn how cybersecurity plays a vital role in the lives of Americans, and how building a national cybersecurity workforce enhances America's national security and promotes economic prosperity. "How can a student prepare for a career they don't even know exists?" said Matt Pronio, Program Manager, Nepris. "The CCEI understands that to build a better workforce, it is critical to introduce students to different careers  earlier and more often. These virtual connections will not only help to inspire the next generation of cybersecurity professionals across America, but also provide them with the background and skills needed to succeed in the industry." Any educator can sign up to attend one of these virtual sessions at no charge. Explore the full series of cybersecurity sessions.
The CCEI-hosted online chats are suitable for students and learners of all ages. Those who cannot attend live can sign up to receive a recording. Learn about previously hosted CCEI industry chats.
There are currently over 300,000 jobs open in cybersecurity, according to CyberSeek, and the national cybersecurity workforce is expected to experience a shortfall of 1.8 million cybersecurity professionals by 2022. This deficit could be filled by new talent (if given early access to educational resources for career entry) and/or by adults already in the workforce if they are re-skilled to assume cybersecurity work roles.
About the Cyber Center for Education & Innovation, Home of the Cryptologic Museum.
The Cyber Center for Education and Innovation – Home of the National Cryptologic Museum (CCEI/NCM), is a public-private partnership between the National Cryptologic Museum Foundation (NCMF) and the National Security Agency (NSA). The CCEI's goal is to strengthen our nation's cybersecurity and defend critical infrastructure by bringing together government, industry, and academia to promote the sharing of insight, knowledge, and resources. Learn more about the CCEI at www.cryptologicfoundation.org/visit/goal
About Nepris
Nepris bridges the gap between industry and education using a technology platform that connects working professionals with K-16 classrooms, bringing real-world relevance and career exposure to ALL students. Through its cloud-based platform, Nepris allows industry professionals to virtually interact with students to bring abstract lessons to life, mentor students on class projects, evaluate student work, provide insight into a day in the life of a professional, offer virtual tours of workspaces, and more. Nepris makes it easy for teachers to leverage industry connections to bring real-world knowledge and skills to students, while providing a reliable platform for companies to easily and effectively engage their employees with schools to help build their future workforce. See Nepris in action at www.nepris.com.