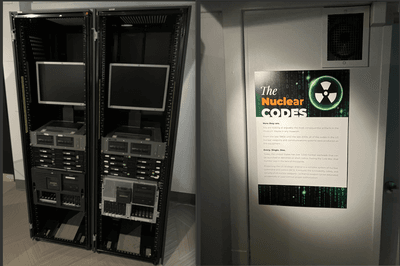 Have you visited the newly re-opened National Cryptologic Museum (NCM) and seen the National Cryptologic Foundation's new exhibit? The Foundation updated its exhibit, which now includes an iPad set up for visitors to easily search our In Memoriam Registry for departed colleagues, family members, and friends.
Over 700 people visited the Museum on its Grand Re-Opening Day. During the event, the NCF Escape Room was on display for visitors to search for clues, crack codes, and solve puzzles.
When you visit, be sure to check out the Museum's new exhibits, including the Nuclear Command and Control (NC2) (see photo) - only one of its kind - on display at the NCM. We hope you will be able to visit the Museum soon!
Keep an eye out for these upcoming Museum-related events in 2023:
27 January: NSA K-12 and the NCM will participate in the 2023 Spy Fest hosted by the International Spy Museum in DC. The Museum will have a booth and an Enigma display.
February: a new temporary exhibit on Sweetheart Codes will be displayed in Gallery II.
22 February: Scout Night at the NCM
11 March at 3 pm: Jennifer Wilcox will present her "Creating Legacy" talk at the Savage Branch Library in Laurel.