"Code Breakers: The Invisible Cryptologists" - An NBC4 Series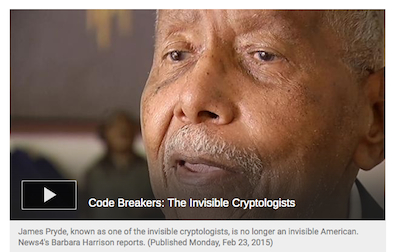 In celebration of Black History Month 2015, enjoy this three part series by NBC Washington, News4's Barbara Harrison, and follow the life of James Pryde, a Tuskegee Airman who became one of the "invisible cryptologists." Also interviewed for the series is David Hatch, NSA Historian.
Mr. Pryde was inducted into the NSA/CSS Cryptologic Hall of Honor in 2006. Learn about his career and accomplishments via his Hall of Honor page. Mr. Pryde is also a former NCMF board member and continues to support the efforts of the NCMF/NCM.
View the article & videos on the NBC Washington Web site.
You may also be interested in reading the NSA publication (online) The Invisible Cryptologists - African Americans WWII to 1956 by Jeannette Williams and Yolande Dickerson.