Cybersecurity Booklet Helps Students, Teachers, & Parents to Embrace Data Care
In July 2021, we announced the completion of an important new Data Care awareness resource for students - the Outsmart Cyberthreats booklet. The booklet project was funded with the generous support of the Gula Tech Foundation, and was designed and produced with our partner, Start Engineering. To view or download the digital PDF version - choose from one of the options below. You can also view the digital version via Flipbuilder.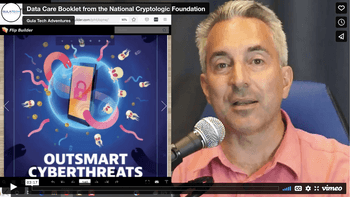 The booklet focuses on cybersecurity education & professions, while promoting the broader easier language of Data Care embraced by Gula Tech Adventures. Hear what Ron Gula of Gula Tech Adventures had to say about the Outsmart Cyberthreats booklet in his August 2022 Gula Tech blog post.
If you are an educator and would like information about obtaining printed booklets, please contact us at booklet@cryptologicfoundation.org.
The goal is to reach every middle or early high school student with this current and relevant resource that explores their typical day in terms of the use of their phone and other electronic devices, and highlights the importance of protecting their data. The booklet offers teachers tangible material to help educate and guide students and their parents. The information in the booklet also introduces students to the diversity of cybersecurity careers, including options they may not have considered to be cybersecurity-related. If you are interested in helping to cover shipping costs for educators - please visit the Ship4Educators donation page.
The information in the booklet is presented in an engaging, approachable, and easy to understand manner. There are short pop quizzes, helpful examples of things like phishing and weak passwords, tips on things like how to know a website is safe, and scenarios a middle school student can relate to and may have experienced. There are also examples of Data Care professions, spotlights on people in those professions, and some fun problem-solving exercises to help students find out if imaginative problem-solving is something that comes naturally to them.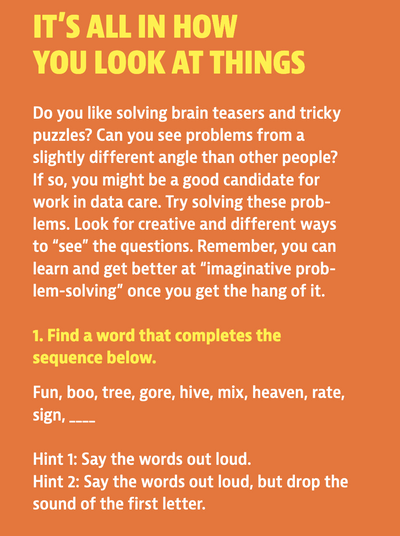 Several of the "Big Ideas" from the High School Cybersecurity Curriculum Guidelines are featured in the booklet - to include Data Security, Risk, and Establishing Trust. The booklet was introduced first to a small focus group of middle school teachers and students (with parent supervision) - the results of which were very positive.
As we go forward with sharing this booklet and developing additional resources, the continued message is that protecting our data is a mission and challenge we ALL share. 
Again, we wish to thank the Gula Tech Foundation and Start Engineering for their support and collaboration. Our Education Program partnerships are invaluable to advancing Mission and Vision.
Learn more about the Gula Tech Foundation and Data Care.
Learn more about Start Engineering and their programs and resources.