October 2022 ~ Inaugural Event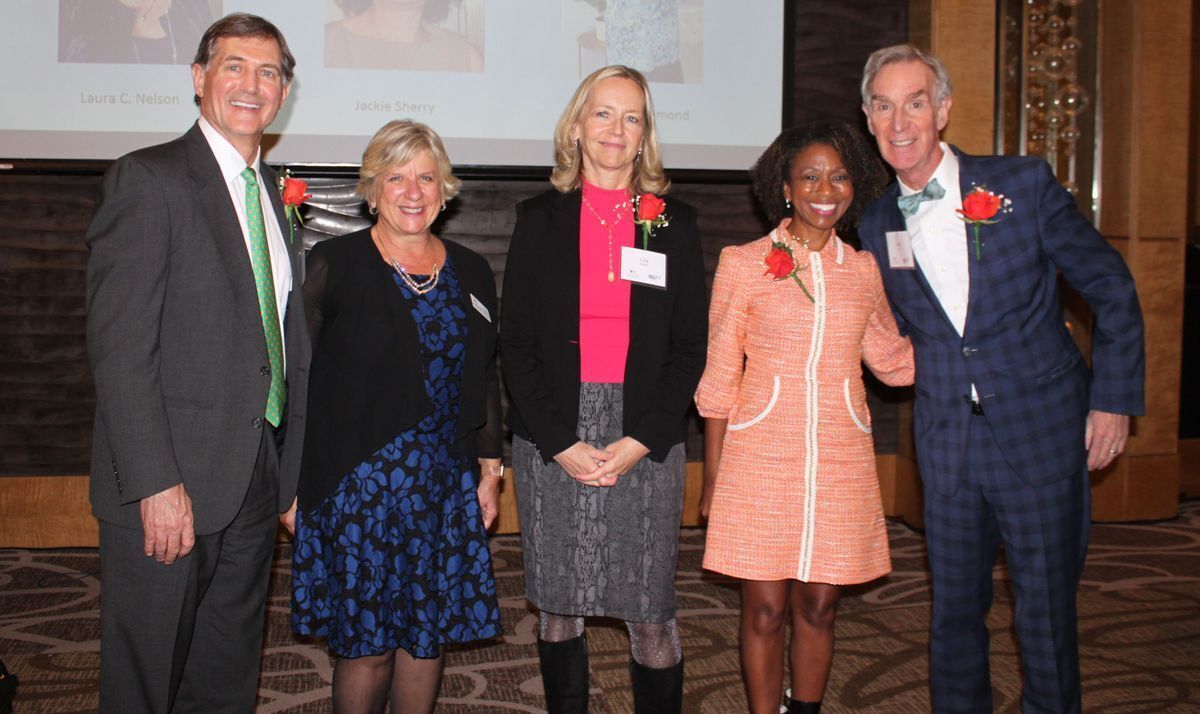 ---
ABOUT THE EVENT
On 27 October 2022, the National Cryptologic Foundation (NCF) and the Intelligence and National Security Association and Foundation (INSA/INSF) co-hosted Cocktails and Codebreakers, a celebration of women codebreakers. This special fundraising event paid tribute to the rich history of trailblazing women in cryptology, to include recognizing the United States Postal Service's October 2022 launch of a Women Cryptologists of WWII forever stamp. A video recording of the program is available below.
The NCF and INSF thank our sponsors: HUMAN Security, FEDDATA/Dell Technologies, Black Cape, Cushman & Wakefield, Dragos, IntelliGenesis, Guidehouse, Capitol Technology University, and GEBA. We also thank ALL who attended and supported the event.
In response to the overwhelming success (and demand) of the inaugural Cocktails & Codebreakers, we officially announce the sequel in October 2023. Details to come. 
Summary
After a welcome from NCF CEO & President Laura Nelson, INSA President Suzanne Wilson Heckenberg spoke about INSF scholarship opportunities, to include a special scholarship for Women in STEM.
During a fireside chat featuring Ms. Kemba Walden, the first Principal Deputy National Cyber Director, Office of the National Cyber Director and Mr. Greg Myre, NPR National Security Correspondent, Ms. Walden discussed her early career inside and outside of public service. She joined the Department of Homeland Security (DHS), where she said she "went full-on into cyber."
"Cybersecurity in an interconnected world connects individuals and gives them the ability to thrive and prosper because everything we do now is connected. Our refrigerators are online for some reason," she said. 
"Our internet has to reflect," she said, and in her view, "our democratic values, but it also reflects economic empowerment, it enables an option to protect our privacy, but it also enables the everyday current functions that people are seeking to accomplish. That's the way I've come full circle into wanting to see communities thrive and doing my part to make sure that happens."
Ms. Walden concluded the Fireside Chat by expressing that she was super excited to be with us to celebrate these heroes who paved the way for women like her, "They made me possible."
The program also included a special presentation by Mr. Bill Nye, American science educator and author, who spoke about his mother, Jacqueline Jenkins-Nye, who served as a WWII cryptologist with the WAVES. Mr. Nye shared several stories, including many that elicited laughs from the audience. He answered questions about his mother, her successful career, and how her codebreaker experience further defined her beliefs and commitment to women's equality.
Mr. Nye graciously participated in an interview with the NCF prior to the event. You can read an article featuring the NCF Interview with Bill Nye for more of his personal reflections about his family, on how he believes the women codebreakers of WWII played a role in women's liberation, and for his advice on attracting kids to STEM.
Finally, during the event, author Liza Mundy also signed copies of her "Code Girls" book at the event. Ms. Mundy's book is what provided Mr. Nye with more details about what his mother did during WWII. Receiving Ms. Mundy's book provided an introduction that led the couple to meet and eventually get married.
View the following below:
A gallery of event photos
A video recording of the program
Links to more info about our guest speakers
A list of our generous program sponsors
Links to resources, such as books, articles, and more about female codebreakers
Read an article featuring our interview with Bill Nye.
---
PHOTO GALLERY - Click on Images for an Enlarged View.
---
PROGRAM VIDEO
---
GUEST SPEAKERS
---
THANK YOU TO OUR SPONSORS!
HUMAN Security - Event Title Sponsor

FEDDATA & Dell Technologies - Bar Sponsor

Black Cape, Inc. - Enigma Sponsor

Cushman & Wakefield - Registration Sponsor

Dragos - Swag Bag Sponsor

Intelligenesis - Swag Bag Sponsor

Guidehouse - Crypto Sponsor

Capitol Technology University - Cyber Sponsor

GEBA - Government Employees' Benefit Association - Cyber Sponsor
---
Women in Cryptology - Books & Resources to Explore
This article by Dena Lombardo for the National Archives News (published March 2020) reviews an event hosted as part of the Know Your Records Program during which archives specialist Cara Moore Lebonick took the audience through the process of tracking down "Code Girl" personnel records at the National Archives at St. Louis. If you happen to be searching for records related to a "Code Girl" - Lebonick said having the name, maiden name, date of birth, employing agency, and location of employment can facilitate the search for Code Girl archives. Requests can be emailed to STL.archives@nara.gov. Click the article title to view the article online.

Oct 2017 Smithsonian Magazine article primarily featuring how Liza Mundy's book documents the triumphs and challenges of more than 10,000 women who worked behind the scenes of wartime intelligence

This article (published in 2020) in "Her Mind Magazine" features several of the NSA "Queens of Code."

Article by Katherine Hafner for The Virginian-Pilot, 14 June 2020: Edith was 20 and in her senior year when she received a summons from the Navy, which had been seeking women with good math and language skills for its new WAVES unit — Women Accepted for Volunteer Emergency Service. Soon she was staying in a brownstone in Georgetown and training in cryptography.

Learn about a small group of women, members of the Goucher College class of 1942, who were known as WAVES—Women Accepted for Voluntary Emergency Service. Many of these Goucher students, along with selected students from the class of 1943, went on to work on the top secret mission of decoding the complex German Enigma code machine. Their work directly contributed to the Allied victory in Europe in World War II.

Article by Lou Leto and Jen Wilcox of the National Cryptologic Museum as a guest post for the Smithsonian's Air & Space Museum website.