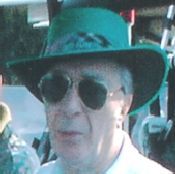 Retired NSA senior executive William Harry Jenkins, 73, of Millersville, MD—better known to his friends and colleagues as "Bill"-- died 24 June 2005 after a seven year battle with multiple myeloma.

Bill was born in Baltimore in 1931, and married Shirley Gunther in 1953. He attended the University of Maryland and received his Juris Doctorate from the University of Baltimore in 1958. He was also a graduate of the Defense Language Institute in Monterey, CA, the U.S. Army War College, and the National War College. Bill was a former president and lifetime member of the Phoenix Society and former member of the American and Maryland Bar Associations. He served as legal counsel to the Phoenix Society for many years.

Bill served in the Army during the Korean War and subsequently had a distinguished career spanning thirty-six years with the National Security Agency. While with NSA, Bill held a number of the Agency's most senior posts, both in the U.S. and Europe, including Inspector General; Chief, NSA Europe; and Commandant of the National Cryptologic School, among others. He retired from NSA in 1987. After retirement, Bill worked as a security consultant and operated his own private law practice. He was well known in defense intelligence circles for his leadership and selfless patriotism, as well as his talents as a linguist and cryptologist.
He was survived by his wife, Shirley, his daughters Grace Jenkins (Powers) and Amy Mataban, his grandchildren, Marina and Anya Powers and Tyrus Mataban, and his sister, Dorothy Freeland.
Sponsored for the In Memoriam Registry by Harry G. Rosenbluh and the Hazards Golf Group.