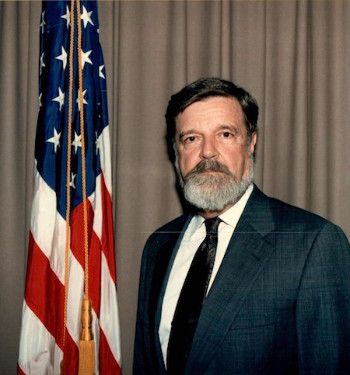 William G. Volenick
9 June 1931 - 16 May 2012
The following information about Bill Volenick's career and service is from this Baltimore Sun article/interview by Melba McCarthy from September 2011. Click HERE to view the article online via the Baltimore Sun website.
Ellicott City resident William "Bill" Volenick, 80, joined the military right out of college when the United States was engaged in the Korean War. He chose to go into the intelligence field and it sparked a career that spanned 35 years at the National Security Agency. Volenick talks about his time in the military, his work with the NSA and his life in retirement in this week's Top Five.
1. When you were growing up, you held jobs as a freelance photographer, an ambulance driver and an organist for a funeral home. How did you end up gettting into military intelligence?
I enlisted in the Army in 1952 after receiving a Bachelor of Science from Loyola College in pre-med. I chose intelligence as my field and trained with the 101st Airborne Division. I then was assigned to the one-year Mandarin Chinese language program at the Army Language School in Monterey, Calif.
2. How did that language training help you in your military career?
Upon graduation, I was certified as an interpreter/translator and assigned to a front-line tactical reconnaissance unit in Korea. During my military tour, I was awarded the Korean Service Medal, the National Defense Medal, the Good Conduct Medal, the United Service Medal and the Expert Rifleman Medal.
3. After being discharged following a three-year tour in the Army, which included earning the Meritorious Cryptologic Service Medal and the National Intelligence Medal, you began your career at the National Security Agency, which had been established in 1952 as the successor to the Armed Forces Security Agency. What were your duties with the NSA?
I was hired as an analyst for the NSA in December 1955 and over the next eight years, I supervised a number of programs directed against hostile government intelligence Agencies. In 1962, like many at NSA, I was involved in the intelligence operations against Cuba, during the missile crisis. Following this, my efforts were devoted against the Soviet military establishment. I became known as an expert on Soviet military strategy. In this capacity, I met with a number of senior civilian and military officials of the United States, Canada and the United Kingdom. They included Secretary of Defense James R. Schlesinger; NATO Commander-In-Chief Gen. Alexander Haig; Richard Allen, the U.S. National Security Adviser to the President; the Joint Staff of the Canadian Military, the Chief of the Royal Canadian Mounted Police and Members of the West German Intelligence.
The last 10 years prior to Bill's retirement from NSA, I was a member of a small committee of senior intelligence officers throughout the U.S. community that were charged with operating counterintelligence against hostile agents. Also, in conjunction with my analytic career, I frequently taught the NSA Senior Cryptologic Course (CY 600) and the Defense Intelligence Agency's Intelligence Masters Program. During my assignment to JCS, I worked briefly with Douglas Fairbanks Jr.
4. You retired after a long and successful 35-year career in the NSA. What kinds of groups did you get involved with to spend your time?
After retirement, I volunteered for the Citizen's Advisory Council of the Howard County Police Department, serving as chairman there, and also on the executive committee. I was also involved in the forming of the county's police auxiliary.
I also volunteered/served on the Howard County Fire and Rescue Advisory Committee, where, with a co-chairman accomplished the extraordinary feat of changing the "protocol" involved in the 911 emergency dispatch procedures, resulting in shortening the time of the unit's arrival at the patient's side by as much as two minutes. Just think of the number of lives that have been saved in that time over the years.
In addition, I am Commander of American Legion Post #156, in Ellicott City, and then was elected Howard County Post Commander. I am also currently on the Legion's Department of Maryland Executive Committee. I have nominated Howard County police officers in the American Legion competition for first responders for seven years and they earned and were recognized by placing First in the state for six of these years. For two years, we have had national winners (setting a record for an individual Post) of five national runners-up. This prompted one of the national judges to question, "Where in the (expletive) is Ellicott City"?
I also serve as Judge Advocate for the Veterans of Foreign Affairs in Howard County and have successfully nominated a firefighter in their competition who then placed first in the nation.
Most recently, I have been appointed by Howard County Executive Ken Ulman to serve on the newly formed 12 person Veterans and Military Families Commission. Their mission is to promote the rights and opportunity of veterans in our county.
5. Your professional success is a product of your upbringing and your family home life. Where were you raised and how did you meet your wife and eventually start a family?
I was born June 9, 1931, in Baltimore, to Dr. and Mrs. Lee J. Volenick. I attended Mount Washington Military School, and, then All Saints Parochial School, graduating in 1944. I then went to Mount St. Joseph's High School on a full, four-year academic scholarship, and graduated in 1948.
In 1953, I married Emmy Lou Armacost, whom I had met in kindergarten, dated through high school and college. The wedding gave rise to a number of comments, as I was the doctor's son marrying the local funeral director's daughter. We have three daughters: Anita Louise, who holds a master's degree in health care management; Julie Ann, who holds a bachelor's degree in criminal justice and is employed with the federal government; and Linda Lee, who holds a bachelor's degree in early childhood education and, after a very successful career in real estate, is currently employed by the Howard County Hospital Foundation. In addition, we have two grandsons and five great-grand children.
Sponsored for the NCF's In Memoriam Registry by Emmy Lou Volenick and Julie Piolunek.