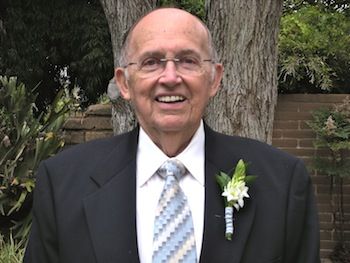 William F. Arrington, a retired government executive with over thirty years of experience in U. S. Intelligence organizations, including the National Security Agency and its predecessor organizations, and the office of the Assistant Secretary of Defense for Intelligence, died January 26 in Rockville, Md. He was 87. The cause of death was heart failure.
Mr. Arrington was born in Mt. Airy, N.C., just down the street from the actor Andy Griffith. Mr. Arrington's older sister took young Andy to his first day of school. Mt. Airy became the fictional town of Mayberry in the Andy Griffith Show.
After moving to Washington, DC as a young man, he served in the U. S. Army in Germany during the Korean War, and upon returning received both a Bachelor and Master's degree in Accounting from Strayer College. He also received a Bachelor of Science in Business and a MBA from American University.
Mr. Arrington served as Chief of the Management Staff of the NSA National Cryptologic School and as NSA Deputy Director of Budgets and Programs. He also served as a representative in budget reviews with the Dept. of Defense Comptroller, the Office of Personnel Management, and the U.S. Congress.
Amongst his many service awards, Mr. Arrington received the NSA Meritorious Civilian Award in 1983, the Presidential Rank Award of Meritorious Executive in 1985, and the NSA Exceptional Civilian Service Award in 1986.
In retirement, Mr. Arrington served on the Board of Directors of the Diabetes Research and Wellness Foundation and the Government Employee Benefit Association. He was also the Head of the Finance Committee of the National Cryptologic Museum Foundation, President of the 9400 Condominium Association, and a member of The Phoenix Society.
He was preceded in death by his wife, Rosemary Sheehan Arrington. Survivors include his step-daughter Mrs. Diane Alahouzos (husband, John), two grandchildren, two great-grandchildren, a niece, Mrs. Victoria Gilliam, and a nephew, Mr. John Arrington.
Memorial donations can be sent to the Diabetes Research and Wellness Foundation, 1832 Connecticut Ave., NW, Suite 420, Washington, DC 20009 www.diabeteswellness.net.
Sponsored for the In Memoriam Registry by Joanne Perriens and Bill Saadi.