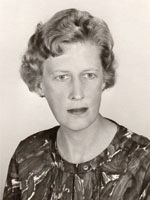 Vera R. Filby, died at her home in Savage, MD, on 15 May 2007 at age 86. She had suffered from a stroke a few weeks earlier.
One of the near-legendary figures of NSA, linking its present to England's WW II Bletchley Park, Mrs. Filby, widow of Bletchley Park veteran, historian and genealogist William "Bill" Filby, retired from NSA in 1994, having served for over 30 years.
Mrs. Filby's career began with service to the WAVES and the Navy's Cryptologic organization and culminated with years of contributions to NSA's National Cryptologic School, including developing and teaching courses to students, instructors, and even partner agencies.  In her final decade or more of active duty, she was a recognized authority and instructor in SIGINT reporting. She was inducted into the NSA/CSS Cryptologic Hall of Honor in 2013. Learn more about her career via her Hall of Honor page.
In active retirement, she became one of the National Cryptologic Museum's first volunteers and an important resource to its library. She (and Bill) was also a member and a strong supporter of the National Cryptologic Museum Foundation.
On 10 January 2006, Gen. Morrison and Mary Faletto, representing the NCMF, paid a visit to Vera, presenting her with an arrangement of Daisies, her favorite flower, and a stuffed "NSA bear" from the museum gift shop. Confined to her home and a wheel-chair, she remained mentally sharp and interested in the welfare of the NCM and its library. There was no viewing or service. Rather, as planned, she was cremated: her and her husband's ashes were scattered over her garden.