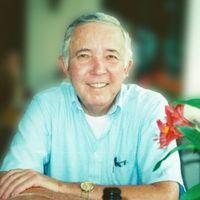 Ronald Lloyd Hunt of Gambrills, Maryland, died at home on 21 April, 2020. He was 77 years old.
Ron was the son of Lloyd Schaal Hunt and Edith Pauline Cowen Hunt. He was born in Fort Morgan, Colorado, on 10 December 1942. Ron attended Denver-area high schools, and went to the University of Colorado at Boulder as a member of the Superior Student Program. He worked as a meat cutter in the summers and on weekends, and enjoyed playing golf at dawn before work.
In early 1965 Ron went to Maryland and began what was to become a legendary and distinguished career at the National Security Agency where he was a cryptanalyst. He loved his work, and his qualities of great intelligence coupled with tenacity and insight led to significant successes. His outstanding work was often recognized, and in 1977 he received the Exceptional Civilian Service Award, the Agency's highest civilian award. Twice he was given nonstandard "battlefield" promotions by the Director, NSA, and achieved the rank of Defense Intelligence Senior Leader. He was a Distinguished Member of both the Cryptomathematics Institute and Kryptos Society, and received, among many other awards, the Kryptos Gold Bug.
His career was capped with his 2012 induction into the National Security Agency's Cryptologic Hall of Honor, a tribute accorded to pioneers and heroes who rendered distinguished service to American cryptology. His citation for that recognition read in part:
"Ronald Hunt earned a record of significant achievement in cryptanalytic diagnosis. He expanded decryption capabilities and successfully diagnosed many difficult, thought-to-be intractable cryptologic problems. He had five primary successes, any one of which would have made a brilliant career, but which collectively made him a giant in his field….  A former senior manager of cryptanalysts commented  ' Whenever he (Mr. Hunt) decided it was time to put forward his thoughts, you knew it was time to listen hard. He has deep intellectual honesty that is critical to diagnosis…. He could somehow sort out all the relevant facts from the chaff, kept them all in his head, and through incredible mental ability made sense out of them.'"  One of the most high-ranking and respected people in the field said, upon learning of Ron's death "I thought of Ron as a kind of magician. When he got involved in a problem, amazing things tended to happen." Ron always felt he was blessed to have work he loved and enjoyed.
After 30 years at the Agency, Ron retired to pursue other interests. His retirement lasted nine days; he was then invited to join a federally funded research and development denter as an adjunct staff member. He worked several months a year at this job, which allowed him to spend time in southern California and New Jersey, for a further 20 years.
Ron particularly loved hiking and travel, and combined these passions in trips to many places, among them the UK, Canada, Alaska, Maine, Colorado, California, and in recent years in the Tucson area during the winters. Once he acquired a Fitbit, he added personal goals and statistical record keeping into the mix- he was always competitive- and in 2019 alone he logged nearly 4 million steps. But it was the beauty of the places he went which drew him to hiking, and whether in coastal Maine or the desert Southwest, he always found something to appreciate.
Ron read widely, particularly enjoying mystery novels. He did puzzles of every sort daily, always ones difficult enough to provide a challenge. He was an enthusiastic kayaker, and in the summers he and his wife Nancy explored the tidal rivers and coastal waters of Maine; he was also an enthusiastic lobster consumer. And he indulged his interest in astronomy under the relatively clear skies of Maine.
Good food and good beer and good friends were important to Ron. He was sociable and had a dry sense of humor. As one friend remarked, "We have lost a national treasure and a GREAT man and friend." Perhaps most important to Ron was family, both by birth and marriage. He is survived by his wife of nearly forty years, Nancy (Taylor), his (step)son David Johnson (Kathryn), his (step)daughter Karen Murphy, and his six grandchildren-- Nicholas, Matthew, Emily, Grace, Lila, and Fiona. He started late as a parent and grandparent, but took to the job enthusiastically and with great love and enjoyment. He is also survived by his brother James L. Hunt of Denver, Colorado, and his sister Phyllis J. Hunt of Niwot, Colorado.  We will all miss him more than words can say.
Because of the current coronavirus situation, a memorial service was not held. When it becomes possible, the family hopes to have a celebration of Ron's remarkable life. If desired, donations may be made in his name to the Sierra Club, or to Planned Parenthood, or the charity of your choice.
Sponsored for the In Memoriam Registry by Joan Ruhl.