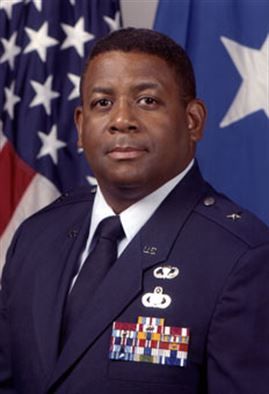 Brigadier General (Ret) Neal T. Robinson, NCMF friend and colleague, passed away on 29 May 2017 after contracting an aggressive infection resulting from chemotherapy treatment for cancer that had spread to his bones. He passed away while in intensive care at Winchester Medical Center. Gen Robinson served as the former project manager for the New Museum Project during the NCMF BoD chairmanship of General Faurer. 
A public memorial service for Neal Robinson was held in Virginia, and his burial took place at Arlington Cemetery. 
Full Obituary
Brigadier General Neal T. Robinson, USAF (Ret.), passed peacefully on the morning of 27 May 2017, with his loving wife Patricia (Pat) Robinson (nee Mosley) at his side. Gen. Robinson led a selfless life that put love and duty to country, family and God above all else.
Born on 2 April 1952, in Bermuda to an Air Force family, he was truly a blended product of Bermuda and Kansas (where the family ultimately settled).  He was an academic and civic leader in his youth, which led to an appointment to the USAF Academy in 1970.  Following graduation, he became an intelligence officer serving in the toughest assignments in hot spots around the world:  South Korea, Iran (where he was taken hostage during the 1979 crisis), Panama, Italy and Germany.  He did multiple tours in the Pentagon, Texas and Maryland.  Neal was head of intelligence for European Command during the Kosovo War.  He approached every job with total dedication and always produced effective results.  After retirement in 2005, he continued his service to country in industry, most recently with Oracle Corporation, which he saw as the best opportunity to help protect our nation.  Neal's wisdom, grace and humor under pressure were attributes treasured by his family, friends and colleagues; he will be greatly missed. (For more on Gen. Robinson's military career see AF.Mil, Wikipedia on the Hostage Crisis, Wikipedia on Kosovo.)
Neal deeply loved his family.  He was a pillar of strength for his family and late mother, Florence.  He was always a role model to his late younger brother (Zayd) and surviving sisters (Elaine, Denise and Florence), nephews (Daniel, Gino, Errol and Brandon) and godsons (Sam and Jack).  Neal also was a loyal son to Pat's parents (Bill and Ann Mosley) and dear friend to his brother-in-law Bill and his wife, Janis, Elaine's husband, Troy, and Denise's husband, Andrew.  He met Pat in 1974 in Lubbock, Texas.  They were married in 1979 in Maryland.  They handled multiple assignment-related separations with grace, and had a wonderful life together.  Upon his military retirement, they made a home in the countryside outside Berryville, Virginia, where they, their dogs and cats, not to mention the deer, geese, bluebirds, opossums and a ground hog were very happy under Neal's special care.  
Perhaps above all, Neal Robinson is a son of God.  He has an unequaled love of the Father, Son and Holy Spirit.  He read scripture and prayed daily.  For Neal, the real world is where he abides now and we can be assured he is taking care of country and family from his new place.  For most who knew him, they could see Jesus Christ in him—for in the end, he spent his life in faith, love and dedicated service.
A public memorial service for Neal Robinson will be held at noon on Saturday, June 17, 2017, at Christ Church, Millwood, Virginia, and his burial will be at Arlington Cemetery at a future date to be determined.  In lieu of flowers, please consider a donation in Neal's name to one of the following 501(c)(3) organizations: Fisher House Foundation, Inc., 111 Rockville Pike, Suite 420, Rockville, MD 20850 or The Blue Ridge Wildlife Center, 106 Island Farm, Boyce, VA 22620.
You may send condolences to Neal's wife and family at:
Pat Robinson, 1604 North Cleveland Street, Arlington, VA 22201
Learn about the career of Brig Gen Neal T. Robinson via his Air Force bio page.
Sponsored for the NCF's In Memoriam Registry by his wife Pat Robinson.