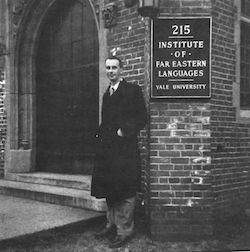 Click here to read the 2004 nomination of Robert N. Tharp for the NSA/CSS Cryptologic Hall of Honor.
The information below is excerpted from the Institute of Far Eastern Languages - Personal Histories of Robert N. Tharp and Delmar C. Lang
Robert Tharp was born on January 31, 1913 in Kuancheng, China, up north near the border with Mongolia, where his parents had lived since 1903. His missionary father, Edwin James Tharp, was born in Canterbury, England. As a teenager, Robert met Evangeline Elsje Kok (Eva), through a chance encounter on a beach in China around 1929.  Eva was born January 26, 1914, in Dali, in China's Yunnan Province, to missionary parents from Holland. Four years later, her family moved to Beijing, where her father, Arie Kok, joined the Dutch diplomatic corps. Eva had a brother, Gerard (Jerry) Kok. Robert and Eva were married in China on August 17, 1938.
After the attack on Pearl Harbor, Tharp was sent to a Japanese internment camp and Eva was placed under house arrest in Mukden, China. In 1942, Eva and her Robert, along with many others, were traded for Japanese prisoners, and they went to India, where they worked for the Indian government and British intelligence in New Delhi. In 1945 they moved to San Francisco so Robert could take charge of radio broadcasting to the Far East under the British Ministry of Information.  At the end of the war, the Tharps made three attempts to return to missionary work in Manchuria, but failed.
In February 1948, Chinese classes started at the Army language school in Monterey, California.  On May 10, 1948, Tharp was hired as a teacher of Chinese at that school. It was there that he met Army Air Corp 1st Lieutenant Delmar Lang who became a student in Chinese at Monterey. Learn about how together their efforts brought about language programs for Air Force Chinese and Korean linguists via the Yale/IFEL program.
Robert Tharp died April 13, 1993. He was 80 years old.
After Robert died, Eva formed her own company to complete, publish and distribute his book, "They Called Us White Chinese: The Story of a Lifetime of Service to God and Mankind."
Read Robert's bio/resume here.
Sponsored for the NCF's In Memoriam Registry by Yale Institute of Far Eastern Languages & USAFSS Alumni.