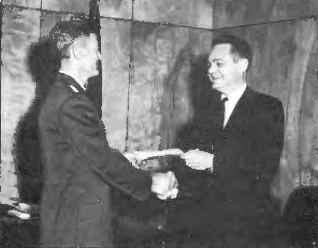 Paul Richard Reimers, a former cryptanalyst at NSA, died in an auto accident on February 3, 1986.
Mr. Reimers, who lived in New Mexico, was born in Ohio. He held master's degrees from the University of Buffalo and Harvard Business School. During World War II he served in the Army in the Pacific.
In April 1958, after completing nearly two years as NSA Comptroller, Mr. Reimers was presented with the Agency's highest award, the NSA Exceptional Civilian Service Award by General Samford. He was the third employee to receive this award. The award was made in particular recognition of Mr. Reimers' highly significant contribution to the success of the Agency's budgetary and fiscal programs during a difficult period of adjustment.
In his more than 16 years with NSA and its predecessors, Mr. Reimers held key positions in operating as well as staff areas. He attended the first Middle Management Program conducted by the Harvard Graduate School of Business in 1954-55 and received a Master's Degree in Business Administration at the completion of this program.
After leaving NSA in 1960, Mr. Reimers worked for private industry, the Library of Congress, and Benjamin Franklin University. He resigned from Franklin in 1982, and moved to New Mexico the following year.
Mr. Reimers was a member of the Phoenix Society and several professional societies, including the Association for Computing Machinery, of which he was a founding member.
He was survived by his daughters and brothers.
Sponsored for the NCF's In Memoriam Registry by Walter P. Sharpe & an anonymous donor.