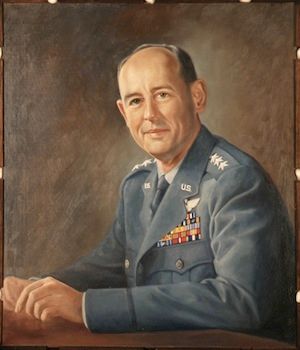 Gordon A. Blake was born in 1910. Upon graduation he was commissioned a second lieutenant in the Coast Artillery Corps and detailed as a student officer to pilot training. After completion of the primary and Advanced Flying School, he was transferred to the Air Corps and was assigned with a pursuit squadron at Barksdale Field L.A. (1933). Following the completion of the Communications Officer's Course he was assigned as communications instructor at the Air Corps Technical School (1934). He served as communication officer of the 18th Composite Wing, Hawaii (1939); Communication Officer of the first land-based aircraft flight from Hawaii to the Philippines (1941), all members of this flight received the Distinguished Flying Cross award; Base Operations officer at Hickam Field and was awarded the Silver Star for gallantry in action that day (1941).
In WWII he supervised operation of the airplane ferry route to Australia via Christmas Island. For the rest of WWII he commanded the Army Airways Communication System in the Pacific (1942); served temporary duty in Alaska where he established the Air Communications Office (1943-1944); accompanied a special 150-man task force into Japan to prepare for airborne occupation troop landings (1945).
His awards for WWII include the Legion of Merit (One Oak Leaf Cluster), Air Medal (One Oak Leaf Cluster), Battle Stars for participation in numerous campaigns. In 1947-1956, he served in numerous positions in the U.S. and graduated from the Air War College until he was appointed as Assistant Deputy Chief of Staff for operations for the Permanent Joint Board for Defense Canada-U.S. (1956).
In 1957 he was Commander of the U.S. Air Force Security Service and was awarded the Distinguished Service Medal. He then served as Vice Commander in Chief and Chief of Staff, Pacific Air Forces in Hawaii (1959); Commander-designate at the Headquarters Continental Air Command (1961); Director of National Security Agency (1962) until his retirement on June 1, 1965. He died September 1, 1997.
The above is from the militarymuseum.com website.
Please also read the article "A Little Known Fact About General Gordon A. Blake" by Mr. Frank Pinkston in our Cryptologic Bytes archives.
Sponsored for the In Memoriam Registry by Maj. Gen. John Morrison, Jr. USAF (Ret.).