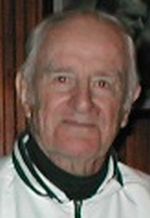 John R. (Jack) Harney, age 90, passed away on Wednesday, October 1, 2014, of natural causes, at his home in New Carrollton, MD.
Born May 28, 1924 in Lynne, MA to William and Mary (Sullivan) Harney. He graduated from Lynn Classical High School in 1942 as Valedictorian and class president.  He attended Harvard as a National Scholarship recipient. 
His college years were interrupted by service in WWII, where he was trained in the ASTP at the University of Nebraska. Jack earned spurs as a horse calvaryman, but later served in combat in France, German and Austria, first as an infantry rifleman and later as a counterintelligence agent, both with units of the 44th Inf. Div.  He was awarded the Bronze Star, Combat Infantryman's Badge, and several campaign ribbons and other medals. 
After the war, he returned to Harvard and completed his honors degree. He received an M.A. from Boston University while teaching there, and joined the Armed Forces Security Agency in 1951, which became the National Security Agency. At NSA he held many cryptologic line and staff positions, including Commandant of the National Cryptologic School and Chief NSA Officer at the Pentagon. He graduated from the National War College in the class of 66. Jack retired from NSA in 1980 as an Assistant Director. He earned the NSA Exceptional Civilian Service Award and the National Intelligence Medal of Achievement.
In retirement, Jack enjoyed golf, writing letters to editors, and spending time with his family. He was survived in death by Betty (Mac Donald), his wife of 63 years, son John Jr. (Carolyn), daughters Mary Ellen Wolf (Bill) and Kathleen Fatula (Rick), five grandsons, two step granddaughters, four great grandchildren and six step-great grandchildren.
Sponsored for the In Memoriam Registry by The Hazards Golf Group, Bill Sullivan, Gene Becker, Rosalie L'Ecuyern, Bill Kvetkas, Joanne Perriens, Sally Botsai, and Bob Hermann.