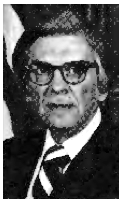 Henry F. DeCourt passed away at the age of 59. He was serving as Acting Assistant Deputy Director for Research and Engineering at the time of his death.
Mr. DeCourt was born on April 4, 1922 in Orange, Texas. In 1946, he graduated from the Georgia Institute of Technology with a BS in Electrical Engineering and in 1948 received his MS from the same institution. He is a graduate of the National War College, Class of 1969.
Mr. DeCourt served in the U.S. Navy from 1941 to 1945 and again in Korea from 1950 to 1953. He was active in the Naval Reserve until 1965, serving as the Commanding Officer of the USNR Security Group Unit 6-1, White Oak, Maryland from 1963 to 1965, attaining the rank of Commander.
Mr. DeCourt was employed in radar system design at the Georgia Tech Research Institute from 1948 to 1950. From 1953 to 1959 he was employed by the Navy and Air Force as a System Analyst with the Army-Navy Electronics Evaluation Group and The National Technical Processing Center. In 1959, he accepted a position with NSA, serving as Chief of various operating elements until 1962. He was assigned as Special Assistant to the Chief, Office of Space Systems in the Office of the Under Secretary of the Air Force from 1962 to 1964. He served as the Chief of an overseas office from 1965 to 1968; and from 1969 through 1976.
Mr. DeCourt served as Chief of various operational elements and R&D Staffs at NSA Headquarters. From 1976 until his reassignment to the office of Special Programs in 1979, Mr. DeCourt served as Executive Director of Intelligence Research and Development Council and Special Assistant to the D/DCI/RM for R&D matters. Hank was serving as Chief, Special Programs, since his assignment in November 1979; and more recently served as Acting Assistant Deputy Director for Research and Engineering.
Mr. DeCourt was survived by his wife Dorothy, and two children, Charles and Amelia.