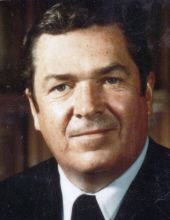 Gerard Patrick Burke, of Bethesda and Cambridge Maryland, died peacefully on February 9, 2020. He was 89 years old.

Mr. Burke was born in Darby, Pennsylvania on April 3, 1930, to Patrick Burke and Mary Breslin. He attended Blessed Virgin Mary school and graduated from Archmere Academy in Claymont, Delaware in 1948. He matriculated to the College of the Holy Cross in Worcester, Massachusetts, where he was awarded the Strain Gold Medal in Philosophy.
After graduation from Holy Cross in 1952, he entered the US Navy, where he was assigned to Naval Intelligence. After his naval service he accepted a position with the National Security Agency at Fort Meade, Maryland. On November 12, 1955, he married Ann Marie Burke in Washington D.C. He received a law degree from Georgetown University in 1958. He served as Station Chief for NSA in Paris, France from 1958-1961. Upon returning from France, he served in several senior positions at NSA, earning the agency's highest civilian honor, the Exceptional Service Award. He was appointed to the White House staff in 1969, serving as Executive Director of the President's Foreign Intelligence Advisory Board until 1973. He returned to NSA as General Counsel for Legal & Legislative Affairs until 1978, when he retired to private law practice.
In 1984 he founded Parvus, a corporate intelligence and security group which had several international subsidiary operations, including Moscow-based ZAO Parvus, the first Russian security services company headed by an American. Mr. Burke chaired the Russian Organized Crime Task Force at the Center for Strategic & International Studies in Washington D.C., and he frequently consulted and testified before Congress on intelligence matters. In 1999, the Parvus Group was merged into Armor Holdings Inc.
Mr. Burke and his wife retired to Cambridge, on Maryland's Eastern Shore, where they introduced their granddaughters to fishing and crabbing, and shared their passion as 50-year season ticketholders of the Washington Redskins. They were devout Catholics and longstanding parishioners at St. Peter's in Olney, St. Mary's in Cambridge, and Our Lady of Lourdes in Bethesda.

Mr. Burke was predeceased by his wife of 54 years, Ann M. Burke. He is survived by a son, Gerard P., Jr. (Jean); two daughters, Maura Burke Vanderzon (James) and Christine Burke Carr (Tyler); nine granddaughters Katherine (John Finnegan), Megan (Joseph Maher), Regina and Mary Burke; Caroline, Elizabeth, and Emily Carr; and Nicole and Delia Vanderzon); and three great-grandchildren (Penny Jean Burke, Martin Patrick Burke, and Theresa McNamara Finnegan). He was also predeceased by a brother, Joseph P. Burke, and a sister, Joan M. Scanlon.

In lieu of flowers, memorial contributions may be made to Catholic Charities, ATTN: Annual Giving, 924 G Street, NW, Washington, DC 20001 (202-772-4394) www.catholiccharitiesdc.org
Sponsored for the In Memoriam Registry by Joan & William T. Kvetkas and Kay & Bob Hunt.