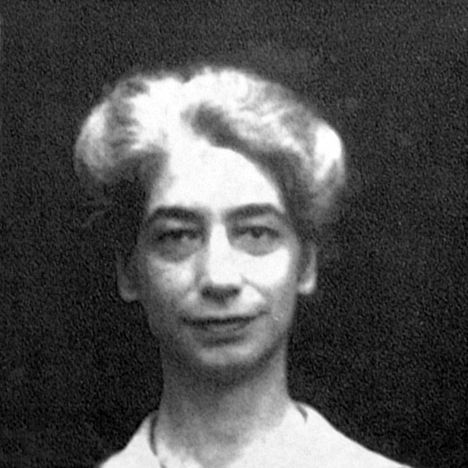 * Dr. Julia Ward was inducted into the NSA Cryptologic Hall of Honor in 2002. The text below is from her Hall of Honor page. She is also a Women in American Cryptology Honoree.
As the founder of Central Reference, Dr. Julia Ward significantly affected the future of a key function across a wide variety of targets and problems. Her pioneering efforts to build a library of classified and unclassified resources to aid analysis greatly advanced the American cryptologic effort.
Dr. Ward was born in December 1900. She attended Bryn Mawr College, earning an Associate Bachelor's degree in 1923 and a Ph.D. in 1940. She was employed by Bryn Mawr from 1923 until she joined the cryptologic service during World War II. She held a variety of positions of increasing responsibility, culminating in Bryn Mawr's director of admissions and dean of freshmen.
During World War II, Ward joined the Signal Security Agency, the Army's cryptologic organization, and worked as a librarian in the reference section, building a collection of classified and unclassified end-product and collateral materials for use by the various analysts. By the end of World War II, she was deputy chief of this very large organization.
In October 1945, she became chief of the reference section. When Ward inherited this unit, it was poorly organized, limited in scope, and focused solely on supplying collateral sources to existing customers performing analysis against established targets. Under her leadership, the section was reorganized to be responsive to the needs of new customers on new targets. Ward believed the section should be able to anticipate some of its customers' needs and to be proactive in gathering and organizing these data. Within a few years, Ward turned the reference section into a highly respected organization to which other federal agencies came for collateral information. In 1949, with the birth of the Armed Forces Security Agency, Ward was named head of the Collateral Branch, becoming the only female branch chief in the Office of Operations. She held this position through the earliest days of NSA.
While in Central Reference, Dr. Ward monitored NSA reporting to ensure Agency product maintained the highest standards of accuracy. Her vast knowledge of cryptologic targets all over the world allowed her to catch many mistakes that would have otherwise been overlooked.
About 1955, Dr. Ward, in a new direction, became deputy chief of NSA's Liaison and Foreign Operations Section. She surprised many by this change. However, she was as successful in this organization as she had been in the reference section; she was promoted to section chief by 1958 and deputy division chief by 1961.
Dr. Ward passed away on 18 June 1962, shortly before retirement. Her obituary in the NSA Newsletter described her as "one of the outstanding women employees of NSA, having completed many highly-significant projects in the accomplishment of the Agency's mission."
Ms. Ward's sponsor for the In Memoriam Registry wished to remain anonymous.