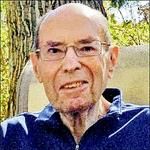 Donald Miller Gish died at his home in Silver Spring, MD on January 10, 2019 at age 89. Born to Edna and Oliver Gish in Washington, DC at the Columbia Hospital for Women, he spent his early years in the Somerset neighborhood of Chevy Chase, MD before moving to Lincoln, NE for his high school years. In 1946, he returned east to attend Harvard University, where he earned a bachelor's degree in history and literature in 1950.
After graduating, he served in the U.S. Air Force from 1950-1954. His time in the Air Force included Russian language training in Syracuse, NY, and an overseas assignment in Japan. Following his military service, he began his civil service career at the National Security Agency. Over the course of his career, he served as an analyst, manager, and cryptologic historian. He spent a total of six years working in Ankara, Turkey. In 1979, he received the Meritorious Civilian Service Award. He retired in 1993 with 42 years of federal service.
Don enjoyed hiking, traveling, gardening, and spending time with his family. A lifetime lover of animals, Don had many canine and feline companions, and single-handedly kept the bird and squirrel populations of Springbrook Forest well-nourished for many years. In his youth, he befriended the capybara at the National Zoo. He was an avid follower of local and world news and liked talking about politics and current events, injecting puns and word play into the conversation whenever possible. Don was active in his church and community, and particularly enjoyed singing in the choir, where he made many good friends.
He is survived by his wife of 54 years, Dorothy; son and daughter-in-law, Matthew and Michelle; daughter, Melinda; and grandchildren, Caitlin and Carter.
Sponsored for the In Memoriam Registry by his daughter, Melinda Gish.