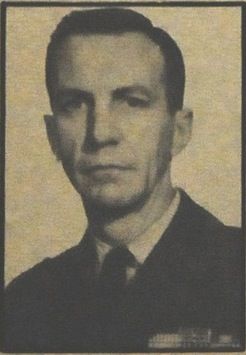 Click here for an article about Delmar Lang in NSA's Cryptologic Almanac.
The information below is from the Institute of Far Eastern Languages article - Personal Histories of Robert N. Tharp and Delmar C. Lang
Delmar C. Lang was born in 1917 or 1918 in Cleveland, Ohio.  In 1940 he was living in East Cleveland, Cuyahoga, Ohio.  He married Teresa W. Bailey (born December 19, 1919, in Manchester, England) in 1941.  Lang enlisted in the Army, March, 1942, and was commissioned as a 2nd Lieutenant in June, 1943, in the Army Air Corps.
In June, 1948, Army Air Corp 1st Lieutenant Delmar Lang became a student in Chinese at Monterey.
On June 25th, 1950, North Korea invaded South Korea. Lang joined USAFSS in 1950.
Lang foresaw the eventual entry of Communist Chinese forces into the Korea War.  He prepared a convincing argument for his superiors that the program in Chinese at the Army Language School in Monterey was inadequate for the Air Force's needs and that an all-Air Force school for Chinese linguists should be set up elsewhere, preferably at one of the leading universities.
In July, 1951, now Capt Delmar Lang started Chinese class at IFEL.  (In August, Robert Tharp was hired as a senior instructor in Chinese at IFEL.)
By late 1952 or early 1953, Lang was on Cho Do Island (an island in the Yellow Sea, off the North Korean coast) with the first IFEL trained Chinese linguists.  Lang's assignment on Cho Do Island is mentioned in cryptologic history publications included on the NSA website. 
Lang retired from the Air Force as a Lt Col and joined NSA as a civilian in 1965, age about 48.
Sometime early in 1951, Del Lang visited Yale to explore the possibility of establishing language programs for Air Force Chinese and Korean linguists.  While there, he met Eva Tharp's brother, Jerry Kok, then director of Yale's Chinese program.
In July, 1972 Lang worked with USAF officers Lt. Col. William Kirk and Maj. Ernie Short to establish the Operation Teaball Weapons Control Center at the Thai air base of Nakhon Phanom (nicknamed "Naked Fanny" by US pilots).  This tactic combined ELINT/SIGINT RC-135s, EC-121s and U-2s with intelligence specialists of the USAF's 6908th Security Squadron.
Delmar Lang retired from NSA in 1980. On July 19, 1988, Delmar was interviewed for NSA oral history about the Gulf of Tonkin incident in 1965.  At that time he was living in Wheaton, Maryland.
Delmar C. Lang died August 4, 1997. He was 80 years old.
Sponsored for the In Memoriam Registry by Admirers and Colleagues.