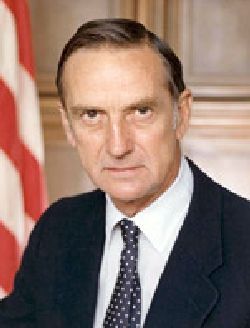 David "Dave" G. Boak, 82, died of abdominal cancer on Sunday, 9 April 2006. He had retired from NSA in 1986 with 42 years of service, highlighted by service as Chief of the NSA Pacific Command Office in Hawaii and Commandant of the National Cryptologic School. To his colleagues, he will always be remembered as "Mr. Comsec," the authority on communications security, a subject to which he had devoted much of his career with NSA.
He was also an advocate of professional literature for cryptology, and contributed toward that corpus. He was particularly known for his publications, and most prominent among these is his series of lectures on Communications Security, known as the "Boak Papers," a collected work often compared in its scope and influence with William Friedman's famous lectures on communications intelligence (COMINT).
Mr. Boak was inducted into the NSA/CSS Cryptologic Hall of Honor in 2010. Learn more about his career and accomplishments via his NSA Hall of Honor page.

Born in New Rochelle, NY and raised in Summit, NJ, he graduated from the University of North Carolina (Chapel Hill) with a degree in English literature. A later master's degree in international affairs was awarded by the George Washington University. In government service, he attended the Air War College and the Federal Executive Institute.

During WW II, Mr. Boak served in the Army before transferring to the Office of Strategic Services (OSS), a forerunner of CIA. He was sent to North Africa, supported the French resistance behind German lines, and helped to train Chinese troops in the China-Burma-India theater.
During the late 1950s, he wrote a weekly freshwater fishing column for the Washington Post. He was also an avid and accomplished tennis player, serving briefly as a professional tennis instructor.
Sponsored for the In Memoriam Registry by Robert Cefail, Susan D. and Benjamin N. Hoover.