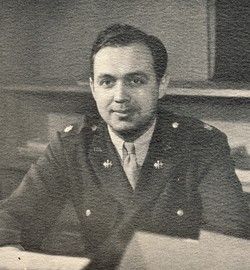 Charles E. Girhard, Jr. was born in Newton, Illinois on May 24, 1918 to Charles E. Girhard, Sr. and Anna Ross Girhard. Graduating as Valedictorian of his Newton High School class in 1936, he won a scholarship to the University of Illinois in Urbana-Champaign.
In 1940 he received a B.S. degree in Chemistry, graduating with high honors. In September 1940 he began work on his Doctorate of Chemistry at Penn State. Additionally, he received a commission as a Second Lieutenant in the United States Army Signal Corps reserve. He held a cryptographic specialty as a cryptanalyst, earned in the University of Illinois ROTC program which at that time was the only college offering this specialized training.
Called to active duty in January 1941, he was assigned to the Office of the Chief Signal Officer in Washington, DC. Following the outbreak of war with Japan in December 1941 and following the evacuation and move of Gen. Douglas MacArthur's Army Headquarters from the Philippines to Melbourne, Australia in March 1942, First Lt. Girhard reported for duty at the new headquarters Mid-April 1942. He was assigned there by Special Orders #2 from Gen MacArthur. He was the first to arrive, of a handful of Signal Intelligence (SIGINT) personnel sent from the US Signal Corps in Washington and immediately assigned to a combined signal organization known as Central Bureau (CB). CB originally was made up of a very small number of Australian, American and British personnel. It was redesignated Signal Intelligence Service (SIS).
By the end of the war in 1945, SIS had grown to more than 3000 highly motivated people. For his significant professional contributions, Captain Girhard was awarded the Legion of Merit in August 1944, one of ten men in the SIS organization to receive this award. After retiring from the Army, he worked for the National Security Agency in the Washington, DC area and overseas, 1948-1974. He continued with Army Reserve duty through 1969, retiring as a Colonel. He retired from the Agency, P1, in 1974. He had 33 years of service.
For his distinguished service with the NSA, Col. Girhard received a number of awards for his especially meritorious service. Retired in 1974, Charles and his wife, Charlotte Moseley Girhard, moved to Wilmington in 2003. In his new southern home, he enjoyed following the ups and downs of the stock market, travelling, playing golf, and working – in ink – crosswords, acrostics, cryptograms, and jumbles
Charles Edward Girhard, Jr. died Sunday, September 28, 2104 at Davis Health Care Center. His beloved wife, Charlotte, predeceased him in March 2011. He leaves behind a sister-in-law, Jessie Moseley of Wilmington, NC, a nephew, Ed Girhard and wife Julie of Newton, Illinois, a nephew Tom Moseley, niece Charlotte Worsley and husband Earl, of Wilmington, and niece Rebecca Fancher and husband Pack of Staunton, Va. Many other cousins, relatives, and friends will miss this member of the Greatest Generation.
Colonel Girhard was inurned in the Arlington National Cemetery, Washington D.C.
Sponsored for the In Memoriam Registry by George & Wendy Cotter.