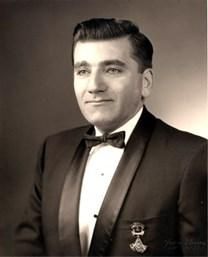 Armen B. Loosararian, a World War II veteran, Master Mason, analyst, executive, and consultant, died on Monday, 16 March 2015, at the age of 91. He was born 25 July 1923 to Barour and Lucy Loosararian in New York City where he was raised until he attended Georgetown University from 1940-1942.
He served in the United States Army from 1942 to 1946 during World War II in Europe with the 114th Signal Radio Intelligence Corp. He went on to attend Cambridge St. Johns University and received his BA in Public Administration from Columbia University in 1948. He moved to Maryland in 1948 to start his work at the National Security Agency (NSA).
He worked at NSA for 31 years serving as an intelligence analyst, manager, senior operations officer, and executive to include having served overseas.
Following his retirement from NSA, he was employed as a consultant to the FBI for 15 years.
He was active in community and church affairs. He served for over fifty years as a member and Past Master of the Silver Spring Masonic Lodge #215. He also survived as the first PTA president for Forest Knolls Elementary School, was active in Boy Scouts, an election monitor and judge, and member of the citizens council for the USPS.
After retirement, Armen served four years as a volunteer docent for the National Cryptologic Museum and as a Charter member of the Phoenix Society, serving as a President and editor of the newspaper. He also earned his Master's Degree in Urban Studies from the University of Maryland in 1988. He was a long time active member of the Soorp Khatch Armenian Apostolic Church in Bethesda, MD, to include serving as a Chairman of the Board of Trustees.
He was pre-deceased by Yerchanig Antreasian Loosararian his wife of 66 years. Survivors include his three sons, Lawrence Armen and Patricia Loosararian of Hanover Maryland, Gregory Ara and Mary Loosararian of Gambrills Maryland, and Alan Haig and Karen Loosararian of Westminster, Maryland. He also leaves 7 grandchildren, Douglas (Jackie), Derek (Meredith), Alena (Brian), Elyse, John, Jake, and Katie and 6 great- grandchildren.
Sponsored for the In Memoriam Registry by niece, Kristine Daneiz; Suzette & Randy Miller; Dr. Berj Antreasian; & Peter Schaeffer.