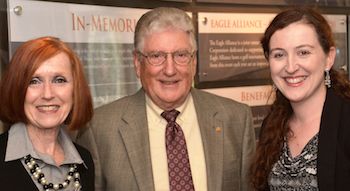 In October 2016, family of Lt Gen Lincoln Faurer made a $10,000 donation to the Foundation to honor Gen Faurer. This very generous donation was presented to NCMF Vice President Orville Lewis by Gen Faurer's daughter Patty Boten and grand-daughter Jessica Boten, who both traveled from out of state to make the presentation at the National Cryptologic Museum. Gen Faurer's name is included in the In Memoriam Panel at the Museum and on our website.
LEARN MORE ABOUT LT GEN LINCOLN FAURER BELOW......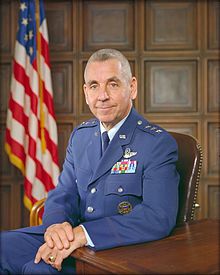 Lincoln Faurer was born in 1928 in Medford, Massachusetts. In 1945 he graduated from Central High School in Philadelphia and attended Cornell University for one year before accepting an appointment to the United States Military Academy. 
"Linc" graduated from West Point in 1950, receiving a commission as a second lieutenant in the United States Air Force. He received a master's degree from Rensselaer Polytechnic Institute in 1964. He attended the National War College in 1968 and concurrently earned a master's degree in international affairs from George Washington University. 
General Faurer was director of J-2, United States Southern Command, Canal Zone in July 1971. In August 1977 he was assigned as director, J-2, U.S. European Command in Germany and in August 1979 stationed to Brussels, Belgium as deputy chairman of NATO Military Committee. He was promoted to lieutenant general September 1, 1979. Faurer was Director of the National Security Agency and chief of the Central Security Service from 1981 to 1985. 
Military decorations and awards include the Air Force Distinguished Service Medal, Defense Superior Medal with oak leaf cluster, Legion of Merit, National Defense Service Medal with one bronze service star, Meritorious Service Medal, Joint Service Commendation Medal with oak leaf cluster and Air Force Commendation Medal with oak leaf cluster. In 1985 President Reagan presented Lieutenant General Faurer with the National Intelligence Medal of Achievement in recognition of his service to the national intelligence community. 
General Faurer retired on April 1, 1985 after 35 years of service with the USAF. He then served as Chairman of the Association for Intelligence Officers and consulted on national security issues. In the 1990's "Linc" served on the Board of Directors for several corporations and was Chairman of the Board of Directors of the National Cryptologic Museum Foundation. 
He passed away on November 7, 2014 and is deeply missed.
Sponsored for the In Memoriam Panel by Ms. Patricia Boten. Sponsored for the In Memoriam Registry by Doug Faurer, Bruce Faurer, Dick Schaeffer, Dick Bernard, Don Borrmann, Chris Inglis, BGen Rod Isler, Lt Gen Ken Minihan, Sally Botsai, Kay and Bob Hunt, Mary Faletto, Gene Becker, George & Wendy Cotter, Jon Clayton, James Current, Robert Dukes, Kila Finch, John Garcia, Gen Michael Hayden, Ed Jacobs, Mike Jacobs, Norman Hazzard, Ed Kirk, Bill Kvetkas, Harry Letaw, Orville Lewis, Don Markle, Barbara McNamara, Len Moodispaw, Tim Ognisty, Peter Oleson, Robert Painter, Samuel Prum, James Pryde, Bill Saadi, Frank & Terri Saus, Daniel Schwartz, Ray Szyperski, RADM H. Winsor Whiton, BGen Neal Robinson, the Sun, Snow, and Surf Ski Club, and Forrest Frank.