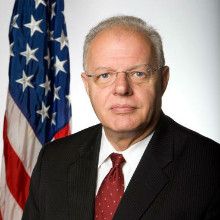 Howard A. Schmidt, a pioneer in federal cyber and a former cybersecurity adviser to two presidents, passed away March 2, 2017, at the age of 67.
Mr. Schmidt had a long distinguished career in defense, law enforcement, and corporate security spanning more than 40 years.
A scan of the titles of articles linked below about Schmidt conveys a great deal about the impact of his career and accomplishments, for example...."leaves indelible influence on cybersecurity"....."pioneer in federal cyber"........"a humble industry giant".....and a "cybersecurity adviser to two presidents."
Mr. Schmidt advised both President Barack Obama and President George W. Bush on matters of cybersecurity. During his time at the White House, he developed the National Strategy for Trusted Identities in Cyberspace program. He also served as a partner in Ridge Schmidt Cyber.
Mr. Schmidt's career in IT and cybersecurity spanned decades as he worked for or served on boards of organizations ranging from eBay and Microsoft to (ISC)² and the Information Security Forum. He also served as the president of the Information Systems Security Association and founded R & H Security Consulting. Just prior to his passing he received the 2016 (ISC)² Harold F. Tipton Lifetime Achievement Award.
His government service included 26 years of military service. Beginning active duty with the Air Force, he later joined the Arizona Air National Guard. With the AF he served in a number of military and civilian roles culminating as Supervisory Special Agent with the Office of Special Investigations (AFOSI). He finished his last 12 years as an Army Reserve Special Agent with Criminal Investigation Division's (CID) Computer Crime Unit, all while serving over a decade as police officer with the Chandler Police Department. He also completed stints as a SWAT police officer, as well as served as head of the FBI's Computer Exploitation Team and chief security strategist for the Department of Homeland Security's US-CERT Partners Program.
Richard Clarke, a former special advisor to the president for cybersecurity said Howard gave up a lucrative position at Microsoft to join the government as his deputy in the White House.
"As a member of the U.S. military, as a police officer, as a corporate official, as an educator, as a White House official, and as a strong voice for cyber security throughout the world, Howard was a selfless patriot. He shall be sorely missed," said Clarke on social media after Mr. Schmidt's passing."
Mr. Schmidt held a bachelor's degree in business administration (BSBA) and a master's degree in organizational management (MAOM) from the University of Phoenix. He also held an Honorary Doctorate degree in Humane Letters. He served as an Adjunct Professor at GA Tech, GTISC, Professor of Research at Idaho State University and Adjunct Distinguished Fellow with Carnegie Mellon's CyLab and a Distinguished Fellow of the Ponemon Privacy Institute. In addition to serving as an educator and a leader of several industry groups, Mr. Schmidt also wrote books on cybersecurity.
Mr. Sdhmidt was a Ham Radio operator (W7HAS), a private pilot, an outdoorsman, and an avid Harley-Davidson rider. He was survived by his wife Raemarie J. Schmidt, a forensic scientist and researcher and instructor in the field of computer forensics, as well as four sons and eight grandchildren.
Sponsored for the NCF's In Memoriam Panel and In Memoriam Registry by Mr. Donald R. Dixon.
---
*** Please see a list of links to articles and pages featuring information about Howard Schmidt. ***
The White House Author page also includes links to cybersecurity posts written by Mr. Schmidt.

"Howard Schmidt leaves indelible influence on cybersecurity" by SC Media Executive Editor Teri Robinson - March 2, 2017

"Howard Schmidt, former Obama cyber adviser, dies" - FCW.com article by Sean Carberry

Wikipedia page about Howard A. Schmidt

NYT Article - 4 March 2017 - "Howard Schmidt, Cybersecurity Adviser to Two Presidents, Dies at 67" - by Sam Roberts

"Howard Schmidt, a pioneer in federal cyber, passes away" by Jason Miller for Federal News Radio - 6 March 2017

"Infosec mourns over Howard Schmidt, who helped make the country a safer place" by Maria Korolov for CSO Online, 3 March 2017

"Howard A Schmidt remembered as a 'humble' industry giant" by Bill Brenner for NakedSecurity.Sophos.com, 3 March 2017