"On This Date in History" Calendar
Anniversary of NCM Opening to Public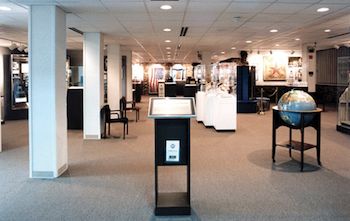 17 Dec 1993: The National Cryptologic Museum opened to the public. Read about the Museum's History.
Did you know that ....It was captured Axis cryptographic equipment that became the basis for a small and little known Research and Development Museum collection (RDM) that was the NCM's precursor?
William F. Friedman and Lambros Callimahos (who set up his own makeshift office museum) originally cared for the equipment. Then in 1970, Earl J. Coates, NSA's first curator, set up museum-like exhibits in the lobby of NSA headquarters.
When the old Colony 7 Motel adjacent to NSA was purchased in the spring of 1990, Vice Admiral William O. Studeman, then-Agency director, was the first to suggest it be used as an NSA-operated museum.
The Museum initially opened on 15 July 1993 for NSA employees and families, as well as members of the Intelligence Community. But once the Museum opened to the public in December 1993, media interest and attendance boomed. Requests for interviews poured in and stories appeared in outlets all over the world. About 10,000 visitors stopped by that first year, a remarkable number considering the museum's furtive beginning. The photo shown here is of the Museum in 1993 when it was a one-room open exhibit area.
Check out the plans for the new museum and Cyber Center for Education and Innovation via the link below.