"On This Date in History" Calendar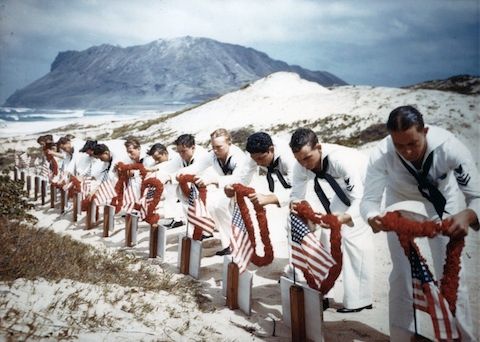 7 December 1941: The Japanese attacked Pearl Harbor in Hawaii. (Photo no. 80-G-K-13328, "Farewell to Thee." Following Hawaiian tradition, Sailors honor men killed during the Dec. 7, 1941, Japanese attack on Naval Air Station Kaneohe, Oahu. The casualties had been buried on Dec. 8. This ceremony took place sometime during the following months, possibly on Memorial Day, May 31, 1942. Official U.S. Navy photograph, now in the collections of the National Archives.)
From the Center for Cryptologic History's Pearl Harbor Review - Pearl Harbor article on the NSA site:
Writing some 15 years after the Japanese attack, William F. Friedman said that the "Battle of Pearl Harbor is still being fought but the adversaries this time are all Americans."
This statement is almost as true today as it was in the 1950s.
On a par with theories about the Kennedy Assassination, the attack on Pearl Harbor continues to draw allegations of conspiracy, treason, and cover-up. The number of books written about the attack, each purporting to tell the "final truth," would fill a small library.
The following is not intended to be a comprehensive treatment of the Japanese attack on Hawaii. Instead, this article will try to draw together the earlier articles in this series about COMINT in the pre-war period, and tell the general story of December 7, 1941, the most momentous day for America in the Twentieth Century!
SUMMARY: By the fall of 1941, the COMINT services in the U.S. military -- the Signal Intelligence Service for the Army and OP-20-G for the Navy -- both had small but vigorous programs with experienced personnel to exploit Japanese communications. The Army and Navy shared the processing of diplomatic messages -- decrypted from the Japanese PURPLE machine and codenamed MAGIC -- and were making efforts, so far mostly unsuccessful, against Japanese naval or military communications. American cryptologists, working with their British counterparts, had made some recoveries in a general purpose Japanese cryptosystem nicknamed JN-25, but, by late 1941, several basic changes to the system had foiled cryptanalysis and exploitation. The U.S. Navy was following the movements of major Japanese fleet elements by means of traffic analysis and Direction Finding from a series of sites around the Pacific.......Continue Reading on the NSA site via the link below.....
VIEW a Pearl Harbor Infographic "Pearl Harbor By The Numbers," as well as a variety of other Pearl Harbor-related information, photos, video links, etc. via the Naval History & Heritage Command website - see link below.