"On This Date in History" Calendar
1944: Captain Joseph Wenger became head of OP-20-G.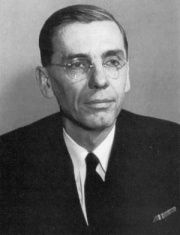 6 Nov 1944: Captain Joseph Wenger became head of OP-20-G. Rear Admiral Joseph N. Wenger played a leading role in the development of both the Naval Security Group Command and the National Security Agency, and was one of the most influential figures in American cryptologic history. He was a pioneer in the development of machines for use in cryptanalysis, and was among the first to recognize the need for centralization within the naval Communications Intelligence (COMINT) establishment. More than anyone else, he was responsible for establishing a Navy-wide cryptologic organization.
After Pearl Harbor, Rear Admiral Wenger assisted in designing the reorganization of the Navy's COMINT structure, changing OP-20-G from decentralized to centralized operations. After the war ended, he served as a Deputy Director for COMINT at the Armed Forces Security Agency, and in 1952 became Vice Director of NSA.
He was inducted into the NSA/CSS Cryptologic Hall of Honor in 2005. Read more about his career and accomplishments at the link below.