"On This Date in History" Calendar
1862: J.E.B. Stewart began his infamous ride around McClellan's Army of the Potomac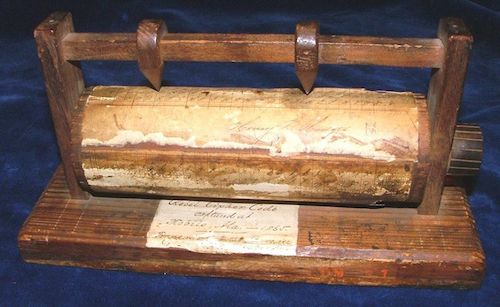 On 12 June 1862, J.E.B. Stewart began his infamous ride around McClellan's Army of the Potomac. The intelligence he brought to Gen. Lee eventually enabled the Confederate Army of Northern Virginia to dispel the Union Army from the James Peninsula and save Richmond.
Pictured here is an extremely rare artifact, the Confederate Cipher Reel. This cipher reel, one of two known to have survived the war, was captured by Union forces at the surrender of Mobile, Alabama, in May 1865. It bears the penciled notations of Confederate Signal Officer Captain Thomas Hawkins Clagett Jr. of Leesburg, Virginia. It was sent to the Chief Signal Officer in Washington, D.C. and later went to the Signals Intelligence Service, a fore-runner of the National Security Agency and the Army's Intelligence and Security Command.
The Civil War Confederate Cipher Reel used a centuries-old cipher known today as the Vigenere or "court" cipher system wrapped around wooden cylinder. Two adjustable pointers indicated plain and cipher letters. Poor security practices of Confederate users made a potentially sophisticated cipher vulnerable to being read by the Union.