"On This Date in History" Calendar
1917: U.S. Army MI-8 Established.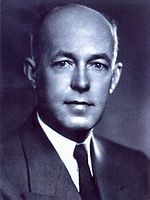 10 June 1917: Establishment of the U.S. Army Code and Cipher Section, MI-8.
In 1917, Herbert O. Yardley was commissioned a 2nd lieutenant in the Army Signal Corps, and was tasked with setting up MI-8. After the war, the Army and the State department decided to jointly fund MI-8 and Yardley continued as head of the "Cipher Bureau," or "American Black Chamber."
From World War I and the Origins of U.S. Military Intelligence - By James L. Gilbert
"The establishment of MI-8 was the first time the US placed cryptology on par with other major powers. In total, MI-8 read over 10,000 messages, and solved 50 codes and ciphers of 8 different nations. With the assistance of the Radio Intelligence Service, Yardley and his staff had furnished the United States' leadership with crucial insights as to the intentions of various foreign leaders and worked alongside counterintelligence in successfully bringing to conclusion a number of its most high-profile cases. Riverbank Labs and MI-8 also successfully trained the Army's cryptologists...."
Learn more about Yardley and the Cipher Bureau via the links below.