"On This Date in History" Calendar
1927: Elizebeth Friedman - cryptanalyst with Bureau of Prohibition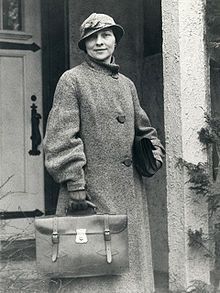 10 May 1927: Elizebeth S. Friedman was appointed as a cryptanalyst for the Bureau of Prohibition.
Excerpt below is from, "Cracking the Code," Published in March 2014 by "The Hillsdale Collegian." Read the full article via the link below to vmcooney.com.
During the interwar period and the Prohibition era, Elizebeth cracked rum runners' codes and served as a government witness across the country, making her the most famous cryptographer in the United States.
The United States Coast Guard credits her with deciphering over 12,000 encoded radio missions and calls her "one of the most remarkable women to ever work for the U.S. Government."
"Her testimony won these cases for the government," said Barbara Osteika, a historian at the Bureau of Alcohol, Tobacco, Firearms and Explosives. "Once she talks through the codes, they're like confessions."
While reading through case files, Osteika often found comments from prosecutors that read something like, "If it was not for her testimony, this case would be lost," she said.
Elizebeth was pivotal in the case against Consolidated Export Company (CONEXCO), "million dollar liquor ring" connected to Al Capone, as well as the famous "I'm Alone" case, in which the U.S. Coast Guard scuttled a ship sailing under a Canadian flag and launched an international incident. She was even loaned out to the Canadian government in the late 30s to help break a ring of opium smugglers.