"On This Date in History" Calendar
1945: The "Yamato" sunk off Okinawa, largely due to SIGINT tipoffs.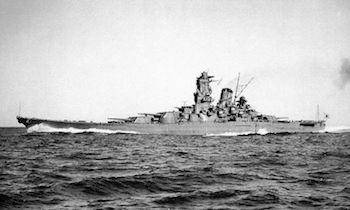 7 April 1945: The Yamato, a Japanese battleship, sunk off Okinawa, largely due to SIGINT tipoffs. Yamato was the lead ship of the Yamato class of Imperial Japanese Navy World War II battleships. The ship was sunk by American planes 200 miles north of Okinawa while en route to a suicide mission in Operation Ten-Go.
Excerpted from Wikipedia: The only time Yamato fired her main guns at enemy surface targets was in October 1944, when she was sent to engage American forces invading the Philippines during the Battle of Leyte Gulf. On the verge of success the Japanese force turned back, believing they were engaging an entire US carrier fleet rather than the light escort carrier group that was all that stood between the battleship and the vulnerable troop transports.
During 1944, the balance of naval power in the Pacific decisively turned against Japan, and by early 1945 its fleet was much depleted and badly hobbled by critical fuel shortages in the home islands. In a desperate attempt to slow the Allied advance, Yamato was dispatched on a one-way mission to Okinawa in April 1945, with orders to beach herself and fight until destroyed protecting the island. The task force was spotted south of Kyushu by US submarines and aircraft, and on 7 April 1945 she was sunk by American carrier-based bombers and torpedo bombers with the loss of most of her crew.