"On This Date in History" Calendar
1999: NATO began Operation ALLIED FORCE in Kosovo.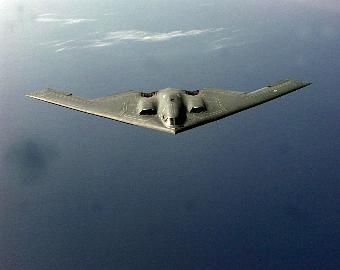 24 March 1999: NATO began Operation ALLIED FORCE in Kosovo. Photo is of a B-2 Spirit Bomber supporting NATO's Operation ALLIED FORCE.
The North Atlantic Treaty Organization (NATO) launched Operation ALLIED FORCE in response to Serbian President Slobodan Milosevic's campaign of ethnic cleansing of Kosovar Albanians.
The first attacks occurred on the night of 24 March 1999, using 250 U.S. Aircraft, including 120 land based fighters, seven B-52s , six B-2s , ten reconnaissance aircraft, ten combat search and rescue aircraft, three airborne command and control platforms, and nearly 40 aerial refueling tankers. In addition, thirteen NATO member countries contributed aircraft. B-52s launched conventional air launched cruise missiles (CALCM) while U.S. and British ships and submarines fired Tomahawk land attack missiles (TLAMs). During the first night, the U.S. and NATO flew 400 missions, including 120 strike missions against 40 targets. On the second day of operations, U.S. Air Force F-15s shot down two Serbian MiG-29s, while another F-15C scored a kill the next day. Air Force and NATO aircraft faced significantly more effective air defenses than what they had recently encountered in Iraq, and pilots were initially instructed to stay above 15,000 feet to minimize risk.