"On This Date in History" Calendar
1954: First NSA Historian - CAPT Thomas Dyer, USN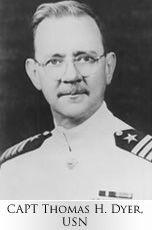 24 February 1954: Captain Thomas Dyer, USN, became the first NSA Historian.
Captain Dyer was inducted into the NSA/CSS Cryptologic Hall of Honor in 2002.
Hall of Honor Excerpt:
"As the lead cryptanalyst at Station HYPO in Hawaii from 1936 to 1945, Thomas H. "Tommy" Dyer led the team that was responsible for most of the breakthroughs in reading Japanese naval communications during the war in the Pacific. After the war, he continued a brilliant career and went on to be one of the three primary cryptanalytic trainers, along with William Friedman and Lambros Callimahos, for both Armed Forces Security Agency (AFSA) and National Security Agency."
Learn more about his career and accomplishments via the link below to his full Hall of Honor bio on the NSA site.