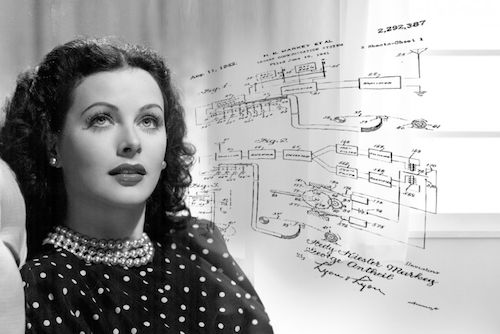 How Hedy Lamarr Invented Early Wireless Technology
by Karli Petrovic, iQ Contributor and Writer
Visit IQ Intel.com for the full article, images, and video clips
Unhappy being pigeonholed due to her looks, the "most beautiful woman in the world" set out to develop a secret communication system that would take down Nazi submarines.
A lonely immigrant from Austria slips out of her stage clothes and kicks off her heels. Carefully removing her movie makeup, she's dissatisfied that she's been overlooked for more significant roles. Instead of throwing a pity party over a glass of Pinot Noir, however, she heads determinedly for her drafting table, a place where she's previously invented an improved traffic stoplight.
This is where she'll prove to the world that she's more than a pretty face.
The scene sounds like Oscar-bait, but the truth is much more fascinating. This is the real-life story of Hedy Lamarr, Hollywood actress turned tech hero.
An inventor whose contributions were recognized posthumously by the National Inventor's Hall of Fame in 2014, Lamarr helped develop a system used in Bluetooth, GPS and Wi-Fi.
Her dual life as an actress and innovator was part of what makes Lamarr such a captivating character. This was perfectly captured in Google doodler Jennifer Holm's nod to Lamarr on what would have been her 101st birthday.
"Lamarr has kind of a mythical status at Google, and I was pretty excited at the chance to tell her story in doodle form," Holm wrote about her doodle. "Sketching storyboards on a yellow notepad helped me figure out how to show Lamarr in very different scenarios—movie star by day, inventor by night."
Brains Before
Although Lamarr was a Hollywood glamour girl and played the femme fatal in movies opposite the likes of Clark Gable and Spencer Tracy, she wasn't the typical looks-obsessed starlet.
"Any girl can be glamorous," she once said. "All you have to do is stand still and look stupid."
As Pulitzer Prize-winning author Richard Rhodes indicated in his book Hedy's Folly: The Life and Breakthrough Inventions of Hedy Lamarr, The Most Beautiful Woman in the World, Lamarr's idea of a good time was a dinner party and discussion with intelligent friends.
"Hedy didn't drink. She didn't like to party," Rhodes told NPR. "Hedy had to find something else to do to occupy her time."
That "something else" was inventing, and it turned out she had a knack for designing problem-solving technologies. Transforming the drawing room in her house into an innovation studio with a drafting table and the necessary tools, Lamarr invented an aid to help people with limited mobility get in and out of the bath, a florescent dog collar and a bouillon cube that would dissolve to turn water into soda.
While Rhodes said Lamarr laughed that the latter invention was a complete flop, her best-known success was a passion project that still has applications today. The "secret communication system" she developed with composer George Antheil, a neighbor and friend, was the precursor to today's top wireless technologies.
"Though invented for a different purpose, the fundamentals of the concepts for frequency hopping became a foundation for widely used wireless technologies we readily use today," said Aicha Evans, Vice President and General Manager for the Intel Communication and Devices Group.
"In the end, wireless is about dividing up the air into clear data transport lanes, modulating and moving data around in a predictable and accurate manner," she said.
Evans said Lamarr and Antheil's particular method of efficiently guiding and transporting data over the air was "pure genius" and the foundation for future advancements in wireless technology.
Live and Learn
Born Hedwig Eva Maria Kiesler, Lamarr hailed from Vienna and was of Ukrainian-Hungarian Jewish heritage. Her first marriage was to a munitions manufacturer named Friedrich Mandle, who reportedly conducted business with Benito Mussolini and hosted Adolf Hitler at the couple's home. Mandle also taught Lamarr about military technology, something that would come in handy years later.....READ MORE via the full article
Return to our HOME PAGE
Visit the Cryptologic Bytes Archives via the "Return to List" link below.