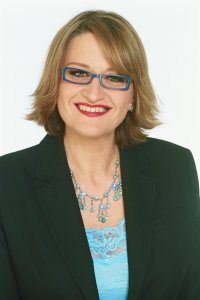 Elonka Dunin - photo by Suzy Gorman.
In a 27 March 2015 Wikimedia blog article, writer Andrew Sherman profiles one of the NCMF's Board Member Ms. Elonka Dunin.
In the article, Sherman describes Dunin's very early interest in video games and a career which led to her new passion for cryptology. Dunin demonstrated a fascination with ciphers and codes and a determination to solve them. In fact, after winning cryptology code contests for conventions, she eventually became banned from the competitions so as to give other participants a chance at winning!
The article also describes Dunin's involvement with Wikipedia over the years, as well as her more personal quest to piece together bits and pieces of information about her family history.
Read the full article via the Wikimedia Blog.
Learn more about Elonka Dunin via her Wikipedia Page and check out her Codes & Ciphers Web site.
Return to our HOME PAGE
Visit the Cryptologic Bytes Archives via the "Return to List" link below.