10 Point Divider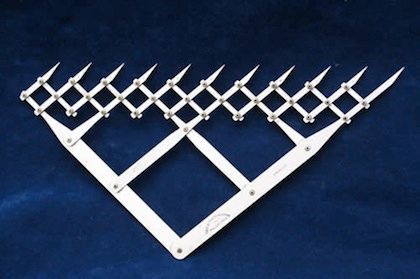 The 10 Point Divider (sometimes called an 11 Point Divider) pictured below came from the estate of a now deceased former cryptographer.  In the public sector this "tool" is commonly used in drafting, form and textile design, model design, long range navigation, etc. We're looking for information from any of our web visitors who may know how this tool was used by cryptographers.
Comment by George on 5/16/10
The divider, and others like it (I have one) were used to manually transcribe data (1's and 0's) from analog displays and was used by both signals analysts (to find structure) and cryptanalysts (to obtain cipher). Time base jitter was a common problem and the higher the data rate, the more uncertain one was of the integrity of the stream. Use of these dividers often meant the difference between "no cipher" and "some cipher" until a system could be devised to automatically digitize the data.
Comment by Frank on 7/13/10

I used the 10 point divider in the 1960's in a signal analysis application to determine presence of and to measure cyclic activity on continuous paper sonogram displays. The 10 point divider came in different sizes from about 8 inches in length to about 12 inches. In later years it became a handy tool to lay out distances to scale on maps. This instrument may still be on display in a corridor display case on the fifth floor on building 2A.
Comment by David on 7/9/15
This device was used extensively in the old A5 CANUTE shop to detect cyclic activity in wave-form plots on rolls of visicorder.
Glen Sprague who headed up that shop developed an acronym for it:
 
M = Manually
O = Operated
M = Multichannel
D = Device
U = Used (for)
S = Signals
A = Analysis
 
MOMDUSIA