NCMF 2018 SUMMER CRYPTOLOGIC PROGRAM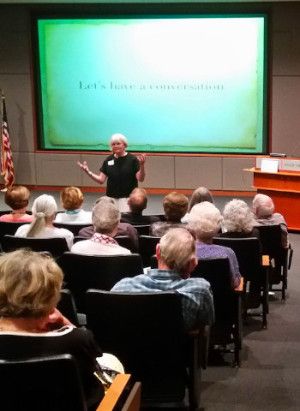 The 2018 Summer Cryptologic Program "Sex & Strategy: Why We are Adrift in the Middle East," featured special guest speaker Dr. Janet Breslin-Smith with an enlightening presentation on American diplomatic and military strategy, and its clash with Saudi culture.
"The observation that the American way of formulating and executing national strategy while overlooking the major differences in Saudi and American cultures has profound implications for our interactions not only for that country, but with many others. Dr. Breslin-Smith left our audience pondering these many insights long after the program ended," said NCMF President Dick Schaeffer.
In fact, her engaging presentation prompted our longest Q&A sessions on record!
Our members and guests passed along many compliments about the substance of the topic, as well as Dr. Breslin-Smith's insights, explanations about the complexities of the Saudi culture, and the challenges she raised for U.S. foreign policy. Learn more about Dr. Breslin-Smith's career and accomplishments below.
Many thanks to Dr. Breslin-Smith for her intriguing presentation and to all who attended and stayed to learn more during the marathon Q&A session.
Please stay tuned as we hope to have a DVD of the program available for sale soon.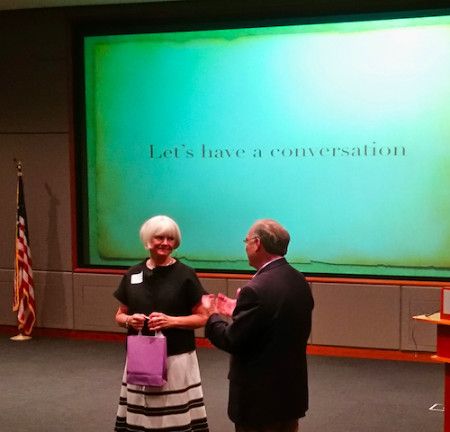 About Dr. Janet Breslin-Smith
Dr. Janet Breslin-Smith travels across cultures, both bureaucratic and geostrategic. As president of Crosswinds International Consulting, she draws on her 30-year career in public service, including leadership roles in the U.S. Senate, the National War College, and in Saudi Arabia, where she focused on higher education and outreach to women. She has written and lectured on strategy and culture, macroeconomics and Islam, women, Islam, and Saudi Arabia. Her article, "The Struggle to Erase Saudi Extremism," appeared in November 2015 in the New York Times. She is the co-author of The National War College: A History of Strategic Thinking in Peace and War.
Dr. Breslin-Smith, a professor of national security strategy for 14 years at the National War College in Washington, D.C., was the first woman to chair that department. She was named Outstanding Professor at the College in 2006. Prior to her academic career, she was legislative director for Sen. Patrick J. Leahy and deputy staff director of the Senate Agriculture Committee.
Dr. Breslin-Smith resided in Riyadh, Saudi Arabia, from 2009 through 2013, with her husband, Ambassador James Smith. She developed extensive contacts with Saudi women leaders in higher education, medicine, business, banking, and philanthropy. She lectured at Alfaisal University, the Diplomatic Studies Institute and CellA+ women's business networks. She consulted with Saudi women members newly appointed to the Shura Council.
Breslin-Smith earned her PhD from the University of California at Los Angeles and her undergraduate degree in international relations from the University of Southern California.