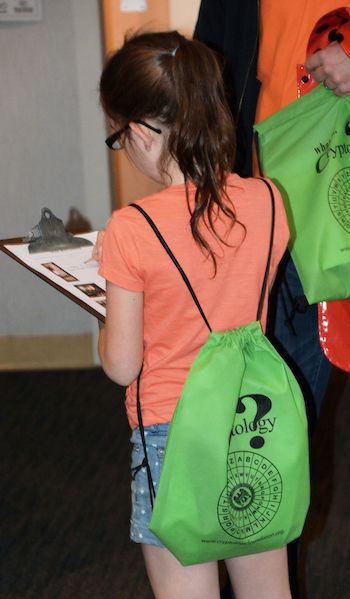 On Saturday, May 21, we came together to honor the men and women (and canines) serving in our nation's Armed Forces and law enforcement and celebrated Armed Forces Day and National Police Week at the National Cryptologic Museum. The 2016 theme was "Honor Those Who Answer the Call to Serve." There were fun and educational activities for visitors of all ages! And the U.S. Army Field Band "Ambassador Jazztet" set the jazzy mood for the crowd.
The rain did not deter visitors, who this year numbered over 1000! The NCMF was thrilled, as always to have so many people visit our table and enjoy free gifts. The most popular item was the "What is Cryptology" pull-string bag. The bags, the gadget guys, and the ice cream were provided by Riverbank Associates, LLC and the NCMF. The kids had to complete the crypto challenge at the Museum in order to earn their free ice cream.
Because of the rain, the events moved indoors and the Ft. Meade Garrison who runs the (normally outdoor) BBQ adapted to the indoor setup and sold food from the kitchen/bar service area. All profits went to the Ft. Meade Morale, Welfare, and Recreation organization.

In celebration of National Police Week, the NSA Police were on hand to demonstrate equipment and visitors got the chance to meet some of the furriest members of the NSA Police. In addition to K9 demonstrations, visitors could check out the NSA Police armored SWAT vehicle.

There were plenty of other activities and opportunities to interact with veterans and current members of the military. Tours and scavenger hunts were also on at the Museum for extended hours.
MANY thanks to those who ventured out despite the rain. We look forward to next year being a sunnier event!
Photos from the event are provided below.
Visitors enjoyed the NCMF table at the 2016 Armed Forces Day Event.

The Enigma Exhibit - part of the crypto quiz & a favorite exhibit.

Free Ice Cream for Kids Who Completed the Crypto Quiz!

The "What is Cryptology" Bag - a Favorite Free Gift!

Families Enjoyed Fun Photo Opps at the Museum!

Lots of Tours at the Museum for the 2016 Armed Forces Day Event.

Always Got Good Items at the NCMF Table!

NCMF Table Got a Prime Spot Near the Enigma!