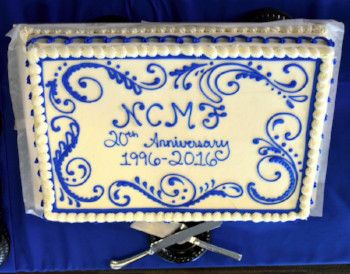 Highlights of the October 19, 2016 program included special guest speakers and an expert law enforcement panel, as well as updates about the Museum, the Foundation, and the New Museum Project. (See updates about the CCEI-NCM on the Overview & Status page.) The program also included a very SPECIAL memorial tribute to three former NSA employees: Ann Caracristi, Juanita Moody, and David Gaddy.

GUEST SPEAKER: Mr. Paul Goldenberg is a leader on the forefront of advising our own Department of Homeland Security and their counterparts worldwide as to how to address the ever expanding threats posed by international and homegrown terrorists. He provided unique insights on his work in Belgium and other parts of Europe following the recent terrorism events there. Mr. Paul Goldenberg is CEO, Cardinal Point Strategies, Co-Chair of the DHS Foreign Fighter Task Force and Co-Chair of the DHS Faith-Based Security Council.

*Mr. Goldenberg was to be joined by his associate, Mr. John Farmer, Professor of Law and Special Counsel to the President of Rutgers University and former Attorney General of New Jersey. He was the Senior Counsel to the 9/11 Commission and wrote a book titled, "The Ground Truth: The Untold Story of America Under Attack on 9/11." Mr. Farmer was unfortunately unable to join us, but sent copies of his book for purchase that he also agreed to sign by mail for program attendees.

An expert law enforcement panel provided the audience with some exciting vignettes, directly from NSA, the Maryland State Police, and the FBI. The panel also offered their perspective on protecting Maryland's citizens, property, and information in the wake of terrorism and domestic unrest. Panel members included Mr. Kemp Ensor, NSA Associate Director of Security and Counterintelligence; Mr. Gordon B. Johnson, Special Agent in Charge, FBI Baltimore Field Division; Col. William Pallozzi, Superintendent, Maryland State Police; and Panel Moderator Mr. Richard C. Schaeffer, President, National Cryptologic Museum Foundation.

GUEST SPEAKER:  Mr. Ronald Lee is involved day-to-day with the challenges of balancing the complicated issues of individual privacy and National Security. He spoke on the topic of protecting the privacy rights of U.S. citizens in the fight against terrorism. Mr. Ronald Lee is a Partner, Arnold & Porter LLP and former NSA General Counsel and Associate Deputy Attorney General of the U.S. Department of Justice.
CLICK ON THE PHOTOS BELOW TO ENLARGE.
NCMF Anniversary Cake!