2014 NCMF 16th GMM Photos
2014 NCMF 16th Membership Meeting & Symposium Recap
View the FULL PROGRAM here.
The NCMF 16th General Membership Meeting & Annual Symposium took place on 15 October 2014 at the Johns Hopkins APL Kossiakoff Center in Laurel, MD.
NCMF President Mr. Richard Schaeffer provided members with an update about the Foundation's highlights from the past year - including a banner year for the Crypto Cup Eagle Alliance Golf Tournament, the launch of the new NCMF Web site, and informative quarterly programs. He also announced that Mr. John "Chris" Inglis will now be the Foundation's new Chairman of the BOD and Dr. Ed Sweitzer will be joining the Board. The outgoing Chairman, Lt. Gen. Linc Faurer, USAF (Ret) was officially named Chairman Emeritus. Mr. Schaeffer also announced the 2014 Cryptologic Hall of Honor inductees which include Alan Turing and Marian Rejewski. He noted that the Polish ambassador will be attending the Hall of Honor ceremony in honor of Marian Rejewski.
Mr. Pat Weadon, NCM Curator, informed the audience about an exciting upcoming exhibit at the NCM that will feature a unique, interactive Magic Planet device which was purchased by the NCMF for the Museum. Mr. Larry Castro updated the crowd about the latest developments regarding the new Cyber Center for Education and Innovation and home of the New National Cryptologic Museum.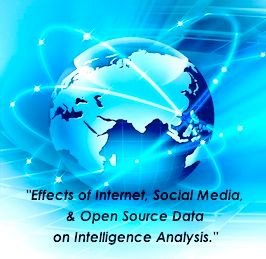 The very timely program theme was "Effects of the Internet, Social Media, and Open Source Data on Intelligence Analysis." Mr. Alex Borhani, Supervisory Special Agent, Cyber Division, FBI & Ms. Mirian Fontanez, Intelligence Analyst, Cyber Division, FBI, joined us in the morning to discuss "The Information Explosion & Its Impact on Domestic Intelligence Analysis." Mr. Martin Petersen, Former Sr. Official, Directorate of Intelligence, CIA, spoke in the afternoon about "Effects of the Internet & Open Source Data on Foreign Intelligence Analysis."

The morning session included a special video address from Mr. Richard Ledgett, Deputy Director, NSA. Mr. Ledgett is also former director of NSA/CSS Threat Operations Center, former NSA Media Leaks Task Force leader, and was the first National Intelligence Manager for Cyber.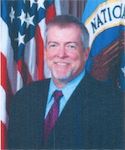 Our Keynote Speaker, Mr. Jonathan Darby, Deputy Director for Analysis and Production within the Signals Intelligence Directorate at the NSA, spoke about "The Future of Collaborative Analysis." Prior to his assignments within Analysis and Production, Mr. Darby was Program Manager for a joint intelligence Community program and NSA's Associate Deputy Director for Counterterrorism where he was responsible for NSA's overall Counterterrorism program from May 2010 to September 2011.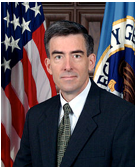 Mr. John "Chris" Inglis, the Robert L. Looker Chair for Cyber Studies at the United States Naval Academy and former Deputy Director of NSA, addressed the audience with a very informative presentation about the aftermath of the Snowden disclosures.
Prior to the morning welcome from NCMF President Mr. Richard Schaeffer, members and guests enjoyed a continental breakfast while browsing the exhibit tables in the lobby area. Exhibitors included the National Cryptologic Museum Foundation, Eagle Alliance, DRS Signal Solutions, as well as publications and NCM/NCMF related items for purchase.