NCMF Winter 2020 Cryptologic Program
Featuring Guest Speaker Ms. Jonna Mendez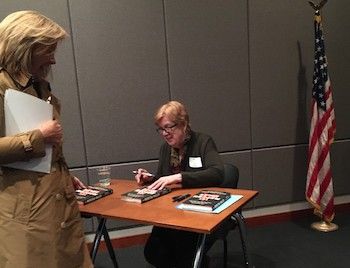 Can you change your appearance completely while walking down a crowded street in Moscow? Can you elude the KGB by pressing a button while rounding a corner? Can you fool the president while briefing him in the Oval Office? The CIA's former Chief of Disguise - Jonna Mendez, shared all the details with us in her presentation to the NCMF on 19 February 2020.
Her fascinating presentation focused on secret tactics employed against the KGB during the Cold War when she and her husband Tony Mendez created James Bond-style gadgets and ingenious disguises that enabled CIA agents to outmaneuver the KGB.
For those of you who were unable to attend, here are a few snippets that stood out with the audience ....
~ The KGB was exceptionally brutal - known to deal with traitors by throwing them live into a crematorium. Yet, despite knowing they risked ending up as fertilizer if caught, it was surprisingly easy for the CIA to recruit Russians to spy for the U.S. 

~ Jonna contrasted KGB vs US tactics of surveillance. For example, life at Moscow Station was oppressive because no matter who you were you were followed openly by KGB agents whenever you left the compound. One of the station chiefs was an avid runner and when he went for his daily run, he was always followed by two KGB runners not far behind. Over time it became so competitive that he could far outdistance his exhausted followers. In contrast, during the Cold War the FBI and CIA tracking of Russian embassy personnel was done by more far covert means.
~ Before sending a CIA intelligence officer down to meet a potential source who had come into the embassy, they would lightly disguise them in order to protect their identities when they left the embassy for home so foreign agents wouldn't learn about their families and where they lived. It could be as simple as a wig, long hair, short hair, glasses, or a mustache. 
~ Using disguise on the street was a very different skill. One would leave the embassy as a man and on turning a corner he would roll up his trousers to his knees and drop a rolled up skirt hidden beneath his coat, ditch the hat, and drop hair extensions from a wig, add glasses, a scarf, kerchief, etc. and lose oneself in a crowd.  Crowds were important diversions because they distracted the follower.
~ Agents in training at CIA Headquarters were often sent to the busy cafeteria to practice their disguises!
ABOUT THE SPEAKER
Jonna Hiestand Mendez is a retired CIA intelligence officer with 27 years of service during which she served tours of duty in Europe, South Asia and the Far East. She joined the CIA's Office of Technical Service in early 1970 and within a few years was overseas as a Technical Operations Officer with a specialty in clandestine photography. Her duties included training the CIA's most highly placed foreign assets in the use of spy cameras and processing the intelligence they gathered.
Retiring in 1993, she had risen to the position of Chief of Disguise earning the CIA's Intelligence Commendation Medal. Since that time she has continued her career as a fine art photographer, a consultant/lecturer and an author. Jonna's photography can be viewed at: pleasantvalleystudios.com.
With her husband, Tony Mendez, whose CIA career was the inspiration for the movie Argo, Ms. Mendez coauthored the acclaimed books Spy Dust and The Moscow Rules.
Learn more about Ms. Mendez on the Mendez couple's website and in a December 2019 Wall Street Journal feature.