"On This Date in History" Calendar
2021 NCF General Membership Meeting (GMM) & Annual Symposium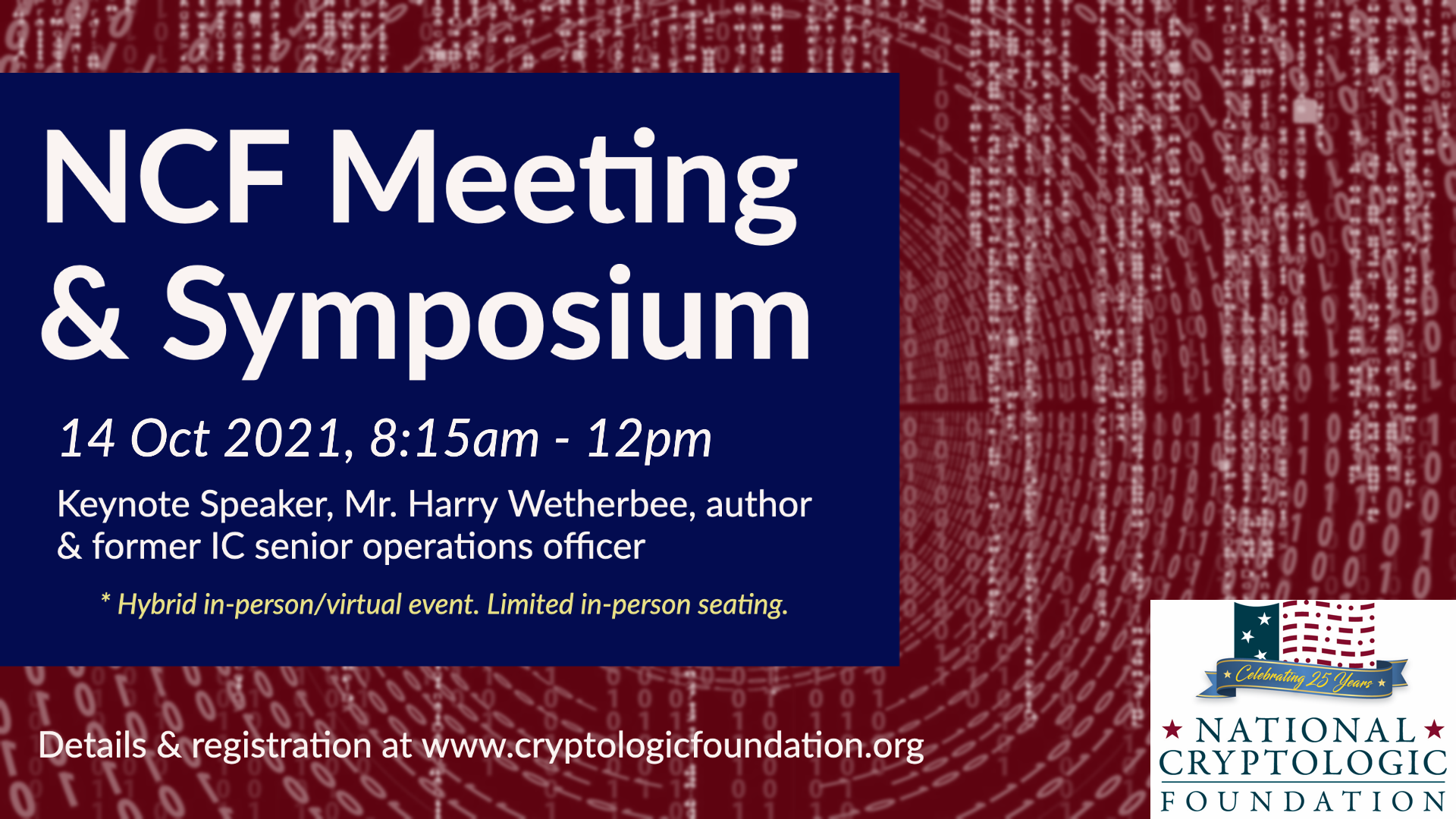 The 2021 NCF General Membership Meeting & Annual Symposium is scheduled to take place on 14 October at the CACI in the National Business Park. Seating will be limited, but options for viewing the program online will also be available. For in-person attendees, check-in will begin at 8:15 am. The program will start at 8:45am.
This year's program will be shorter than previous years. In addition to updates from NCF and Museum staff, our program will feature a keynote presentation by Mr. Harry Wetherbee, author (pen name Donald Alexander) and former senior operations officer for the CIA Directorate of Operations. There will be a book-signing following Mr. Wetherbee's presentation.
*Please note that no food will be permitted within the conference facility due to Covid-related safety precautions and masks will be required upon entrance. Coffee and water will be permitted and provided. See a preliminary agenda below.
CLICK HERE FOR REGISTRATION OPTIONS
2021 - Preliminary Agenda
* Please note this agenda is subject to change.
0815-0845 - Check-In
0845-0900 - Welcome & Memorial Tributes by NCF Chairman Mr. Richard Schaeffer, Jr.
0900-0920 - Opening Remarks by National Security Agency, Director, Engagement and Policy Directorate, Ms. Natalie Lang
0920-0940 - National Cryptologic Museum Update, National Cryptologic Museum Director Dr. Vince Houghton
0940-1000 – National Cryptologic Foundation Update, NCF President and CEO Ms. Laura Nelson
1000-1030 - National Cryptologic Foundation Education Program Update, NCF Education Director Mr. Mark Loepker
1030-1110 - Keynote Address, Mr. Harry Wetherbee, Author and Former CIA Directorate of Operations Senior Operations Officer
1110-1125 - Q & A
1125-1130 - Closing Remarks by Ms Laura Nelson
1130 - 1200 - The Character of a Leader - Book Signing by Mr. Wetherbee
ABOUT OUR KEYNOTE SPEAKER
Mr. Harry Wetherbee retired from the Central Intelligence Agency in 2015 after a 48-year career. Over the course of his career, he served in multiple operational assignments overseas including Moscow, Addis Ababa, New Dehli, Oslo, and Islamabad. A gifted leader, he is well known across the Intelligence Community for his ability to work across multiple agencies to advance our nation's intelligence capabilities. Upon his retirement, he was the recipient of the George Washington Spymaster Award, the highest honor bestowed by the Intelligence Community.
As the author (using the pen name of Donald Alexander) of The Character of a Leader – A Handbook for the Young Leader, Harry captured his lessons in leadership based on decades of experience, research, and reflection. His book challenges and inspires us to make a difference every day of our lives and reminds us that true leadership requires strength of character and integrity.
Harry received his BA in history from the University of North Carolina in 1967.