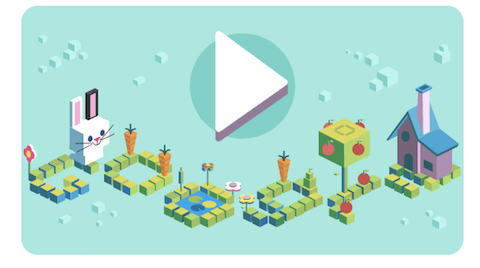 On December 4, 2017, Google celebrated 50 years of kids coding with a very special interactive Google Doodle! No matter what your age - give it a try and see if you can use the code correctly!
Visit the Google Doodle page to learn more about this doodle and the team of bright minds behind its creation.
Below is the background information about this Google Doodle from Google:
"Today, during Computer Science Education Week, we celebrate 50 years since kids programming languages were first introduced to the world with a very special creation (and furry friend): our first ever kids focused coding Google Doodle! Today's Doodle was developed through the close teamwork of not one or two but THREE teams: the Google Doodle team, Google Blockly team, and researchers from MIT Scratch!
To learn more about the history and importance of kids coding languages, we invited Champika Fernando, one of the project's most passionate collaborators at MIT, to share her thoughts:
My first experience with coding was in a free after-school program back in the eighties when I was nine years old. We programmed a little green turtle to move around and draw lines on a black screen. That programming language was called Logo.
In the 1960's, long before personal computers, Seymour Papert and researchers at MIT developed Logo - the first coding language designed for kids. With Logo, children could program the movements of a turtle, giving them the opportunity to explore ideas in math and science. Papert and his colleagues envisioned that computers could eventually be used by all children as a powerful tool for learning. They saw coding as a way for kids to develop confidence and fluency with a piece of powerful, modern, and one-day ubiquitous technology.
With today's Doodle -- the first coding Doodle ever -- we celebrate fifty years of coding languages for kids by "Coding for Carrots." In the interactive Doodle, you program and help a furry friend across 6 levels in a quest to gather its favorite food by snapping together coding blocks based on the Scratch programming language for kids.
Like Logo, Scratch was developed at MIT and builds on Papert's early ideas about kids and computers. It's designed to be less intimidating than typical programming languages, but just as powerful and expressive.
Kids programming on computers must have sounded futuristic and impractical in the 1960's when Logo was first created. In fact, even in the 1980's when I wrote my first lines of code, my working-class parents questioned how coding would ever benefit their nine-year-old daughter.
Today, computers are used in almost every aspect of our lives. We have them in our homes, at work, and in our pockets. My early experiences with computers gave me confidence that I could create with new technologies, not just interact with them. Those early experiences not only influenced my career path, but provided me with new ways to express my ideas and influence the world around me.
After working as an engineer at Google for some time, I now work on the Scratch Team at MIT, where we're focused on developing new ways for kids to express themselves creatively through coding. With Scratch, kids can create their own interactive stories, games, and animations, using coding blocks just like the ones in today's Doodle. They can also share their projects in an online community with millions of other kids around the world. We believe all kids should have the opportunity to develop their confidence with the technology that surrounds us.
This week, millions of people around the world can and will have their first experience with coding. It makes me happy to think of all of the nine-year-olds who will get their first coding experience playing with today's Doodle. My hope is that people will find this first experience appealing and engaging, and they'll be encouraged to go further. In some ways, it's very different from my first coding experience many years ago, but I hope it will be just as inspiring and influential for them.
Champika Fernando, Director of Communications, Scratch Team"
Return to our HOME PAGE
Visit the Cryptologic Bytes Archives via the "Return to List" link below.